Rona goes customized for Christmas
The home improvement store launches a new tablet-friendly content strategy ahead of the holidays.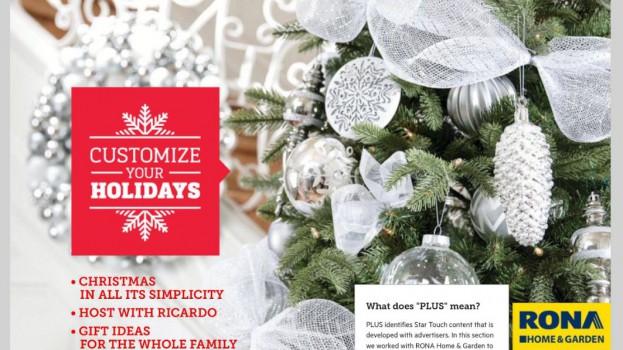 Aiming to show and tell consumers about its holiday wares, Rona has made interactive catalogues for tablets a big part of its festive season strategy.

With media from Carat and creative from Sid Lee, the retailer has launched a special magazine in Star Touch and La Presse+ called "Customize your Holidays." Content in the custom pub aims to inspire and inform readers about this year's holiday trends while incorporating items from Rona. Articles include custom cocktails and recipes for each of Rona's four holiday themes - Winter Wonderland, Cottage Holidays, Fancy Holidays and Cozy Cocooning - each created with celebrity chef Ricardo, as well as different audio tracks that play for each section of the custom pub. 
The branded mag is running on Saturdays in the tablet editions until mid-December, with full-page ads in the daily editions pushing readers to the section through the week.
Marlène Hins, senior director, marketing at Rona, says the digital catalogue is an evolution of past holiday promotions, which ran a static print version in major market newspapers across the country.

She says the first 12 days of the campaign had the same amount of readers as Rona's entire six-week spring promotion. The campaign is the first branded custom content execution for Star Touch, which launched in September and last week announced its first readership milestone.

Rona's holiday campaign's focus on tablets is also part of the company's evolving media spend, with about twice the digital investment for the holiday campaign as for its spring push. Hins notes the ability to have consumers interact with the tablet edition and also the better associated measurement as two key reasons for the switch.

In addition to the interactive tablet magazine, Rona's holiday campaign also includes a printed version of the catalogue running in Publi Sac in Quebec and weekly newspapers across other Canadian markets.

From Media in Canada