CASSIES Gold: Vancouver Opera lets its monster out
The campaign for Stickboy traced opera's roots as an underground movement to link it to street art.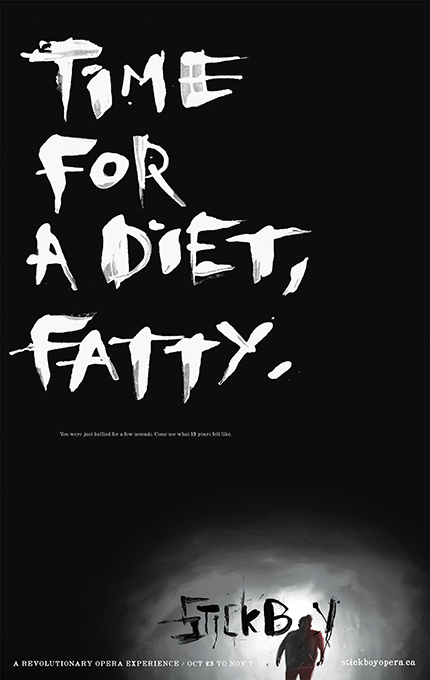 This story appears in the February/March 2016 issue of strategy.
Best Matching of Message to Medium
Situation Analysis: Like many art institutions, Vancouver Opera's funding and patrons are literally dying off. To survive, it needed to attract new audiences. Vancouver is home to a thriving creative class but that audience wasn't attending the opera, which was not seen as modern. Ticket sales were in decline season over season. To attract a younger demographic, Vancouver Opera developed a new work called Stickboy, telling the emotional story of bullying through opera, spoken word, multi-sensory set design and animation. The task was to break preconceived notions about opera and convince a new audience that the show was relevant.
Insight & Strategy: The target market for Stickboy was curious 20- to 40-year-olds who think of themselves as cultured and want to be part of what's new and next in the arts. Simply saying opera was cool again to this audience wasn't going to work. The strategic impetus for the campaign came from understanding that opera has always been the underground movement that carried the stories of the voiceless.
Street art has taken opera's former underground role in today's culture. Merging street art with opera would make the medium part of the message, while demonstrating that Stickboy was taking a modern approach.
Execution: Running from September to November 2014 in British Columbia, with a budget of only $70,000, street artists were engaged to create murals, using their credibility, influence and creativity to attract the attention of the new audience. PR and social media channels amplified the execution, and an online "mural" was created to allow influencers and audiences who'd seen the street art to share their own stories, inspired by the show's message, "There is a monster within all of us." Each mural had the tagline and encouraged people to visit Stickboyopera.ca to learn more.
Results: Stickboy successfully reversed Vancouver Opera's decline and doubled ticket sales to new patrons. This exceeded the target and the prior season ticket sales by almost 10%. Stickboy generated 300% more social conversation than previous shows, while PR outreach generated 16 million impressions, including the front cover of Vancouver's premiere arts and entertainment publication, and international coverage in blogs such as PSFK and Fast Company.
Cause & Effect: Stickboy was one of five Canadian premieres from Vancouver Opera. Previous show campaigns had leveraged the same media channels with similar budgets, but did not garner the levels of earned coverage or new patrons Stickboy's campaign generated. Tickets for Stickboy were priced above those of similarly sized Vancouver Opera shows. The attendance of the show by a younger demographic was evidence that the campaign attracted the desired new audience.
Credits:
Client: Vancouver Opera
Agency: DDB Canada / Vancouver
ECDs: Cosmo Campbell, Dean Lee
ACD/AD: Daryl Gardiner
CW: Geoff Vreeken
Mural artists: Ben Tour, Chairman Ting, Nick Gregson, Ola Vola
Agency producer: Erica Jonsson
Account director: Amanda Downs
Stickboy lllustrations: Giant Ant
Type illustrations: Fredéric Mazzola
Digital artists: Laurice Martin / Laurel Miller
Director of corporate communications & PR: Paige Calvert
VP strategy & innovation: Marty Yaskowich
Mural support and space: The City of Vancouver, Ameresco, Bomber Brewing, The Beedie Group
Video production: Salazar Films
Video project management: Video Project Management