CASSIES Grand Prix: Moms demand groceries, not guns
The social awareness campaign set its sights on corporations to influence the gun debate.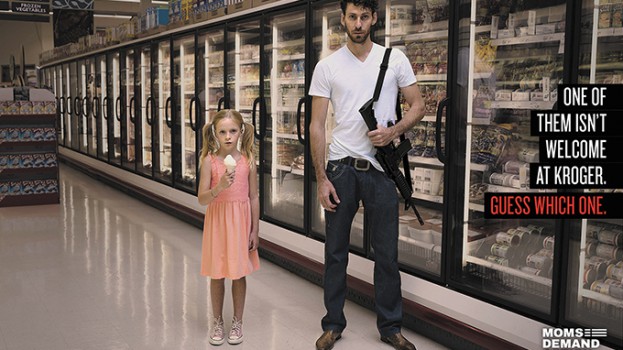 This story appears in the February/March 2016 issue of strategy.
Grand Prix
Gold: Canadian Success on the Global Stage + Gold: Best Insight
Situation Analysis: Following the December 2012 massacre in a Newtown, Conn. school that left 28 people dead, including 20 children, Moms Demand Action For Gun Sense in America formed to galvanize public action to establish common-sense gun reforms. The conversation on gun control in the U.S. is fraught with partisan politics, civil rights debates and the influence of lobby groups and industry, most notably the NRA.
Insight & Strategy: The organization's initial, traditional launch had grown membership to 105,000 but failed to influence legislators. However, large corporations are often better equipped to make the case for social change due to their connections, lobbying heft and influence. Research showed that CSR within corporations had undergone profound change, moving from defensive campaigns to a more proactive stance. Organizations particularly sensitive to public opinion and/or small changes in top line sales, such as retailers who allowed the public to legally carry loaded guns in their stores, could be targeted.
Execution: The first phase targeted Starbucks, which allowed armed weapons inside its stores despite banning smoking 25 feet from all locations in the interest of public safety. "Skip Starbucks Saturday" asked moms to skip just one visit per week and featured the iconic Starbucks cup logo altered to have guns ablaze. With an annual spend of less than $500,000, "Skip Starbucks Saturday" included Facebook, Twitter, online video and PR executions.
Phase two added digital media and a microsite to the mix. "Groceries Not Guns" called out the largest grocery chains in America, contrasting what wasn't allowed in Kroger (skateboards, outside food, going shirtless) with what was (loaded guns) through side-by-side visuals. Actual consumer calls to Kroger stores protesting the hypocrisy were recorded and used in radio. Film creative was deployed as pre-roll and posted on social networks.
Results: Receipts showing over $250,000 in lost Kroger revenue, as a result of boycotts, were posted by consumers at Groceriesnotguns.com in the first 48 hours alone. The new corporate policies initially established in Starbucks spread to Target, Kroger, Albertsons and Safeway, creating 15,763 new no-carry zones, frequented by over seven million Americans every day. The Moms Demand Action community increased more than 10% during the "Skip Starbucks Saturday" campaign, from 105,458 to 117,027, and then more than doubled to over 330,000 members following "Groceries Not Guns."
Cause & Effect: From a campaign budget of less than $350,000, over 1.5 million individual responses were generated, including 360,000 petition signatures and 16,000 complaint calls to Kroger. Earned media from "Skip Starbucks Saturday" totalled nearly four million impressions, with "Groceries Not Guns" generating another 350 million unique earned media impressions.
Credits:
Client: Moms Demand Action for Gun Sense in America
Agency: Grey
CCO: Patrick Scissons
ADs: Logan Gabel, Rob Trickey, Raul Garcia, Jay Melnychuk, Yusong Zhang
CWs: Patrick Scissons, Graeme Campbell, Dave Barber, Sue Kohm
Producers: Vikki Kuzmich, Terri Vegso, Erica Metcalfe, Jay Gammy
Development: Matt Kantor, Phil Moreira, Biko Franklin
Account service: Laura Rovinescu, Darlene Remlinger
Production ("Which One"): The Field
Photographer: Eden Robbins
Producer: Cherie Sinclair
Retoucher: Hardave Grewal
Production ("Not Allowed"): SPY Films
Director: Tamir Moscovici
DOP: Samy Inyaeh
Producers: Merrie Wasson, Marni Luftspring, Carlo Trulli
Post production ("Not Allowed"): Rooster, Alter Ego, Fort York
Editorial: Paul Proulx
Colourist: Wade Odlum
Flame artist: Mike Bishop
Audio ("Not Allowed"): Apollo Music; Tom Hutch, Daenen Bramberger, Spencer Hall
Audio ("Calling All Krogers"): Adam Damelin, Nathan Handy, Matt Gauthier
Production ("Big Question"): 1One
Post production ("Big Question"): Wingman
PR agency ("Skip Starbuck Saturday"): Berlin Rosen; Stephanie Mueller, Taylor Maxwell
Production ("Choose One"): Sugino Studio; Eden Robbins, Miho Matsuoka, Sarah Gheriani, Taeko Yamanouchi