Figures on food: How we eat, by the numbers
A recent survey provides some insight into Canadians' meal habits.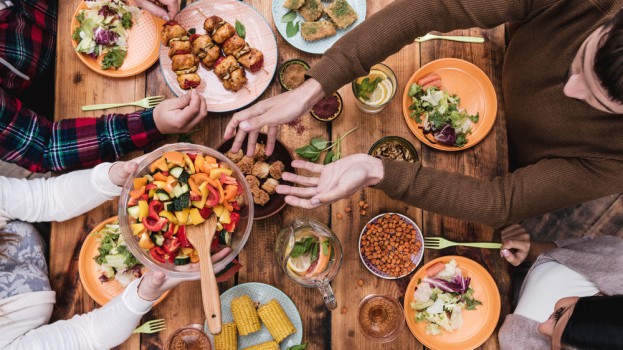 Ah, food. For some, it's a passion. For others, just something they need to stay alive.
A recent survey aims to offer some insights into how Canadians view their meals. The study was conducted by Leger Marketing for food magazine Ricardo, and involved a survey of 3,150 people across Canada.
Take a look at some of the numbers below.
Meals matter
72% say they have breakfast each morning.
Nearly half (48%) of respondents say they go out for lunch at least once per week and 18% say they never bring their lunch at all.
34% describe preparing lunch as a "major chore."
51% say they order takeout at least once per week.
65% of households say they decide what to eat for dinner the same day. That decision usually happens between 4 p.m. and 5 p.m.
A family affair?
Women are responsible for food purchases in three out of four households. It's probably not surprising, then, that 66% say they learned to cook from their mothers.
Families say they eat together five days of the week, and most (two-thirds) say that's enough, but a quarter say they wish it were more often.
Still, not everyone might be engaged in conversation, with 14% of Canadians saying they use the internet while at the dinner table.
Getting our food
Only 12% set a budget before they grocery shop but 62% say they use grocery flyers.

56% look at nutrition labels while shopping.

27% say they grow their own vegetables.

Featured image via Shutterstock