Putting shoppers in the lap of luxury
High-end retailers are upping their experience game to win loyalty among a discerning customer base.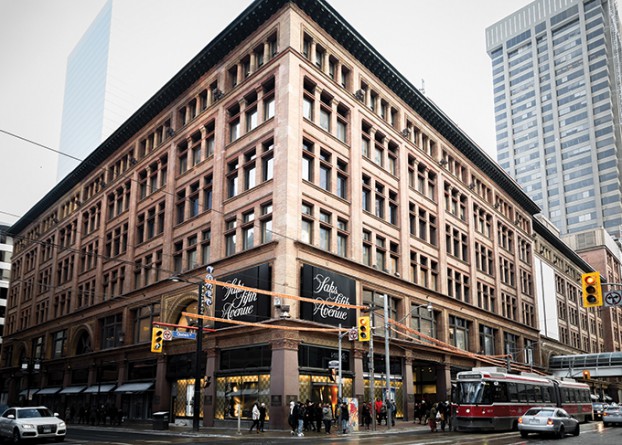 This story appears in the April/May 2016 issue of strategy.
American retailers haven't been strangers to Canadians, even in the pre-internet days. But when the buzz surrounding Target's entrance wasn't enough to sustain its survival, some Canadians questioned if it's wise for U.S. brands to expand their bricks-and-mortar presence here.
In particular, as new entrants with higher price points move into Canada, some are wondering if luxury banners are destined for the same short-lived glory as their low-cost counterpart.
To be sure, there is a market for luxury, particularly in major metropolitan areas boosted by tourism. Like a shopper investing in one great cashmere sweater over a dozen fast-fashion polyester ones, the department store and luxury players – both new and existing – are aiming for quality over quantity, making statements with their store experiences to ensure they don't suffer the same fate as some lower- and mid-priced retailers.
Hudson's Bay Company-owned Saks Fifth Avenue has entered the market playing the high-level service game. When it revealed its first two full-line Canadian stores in Toronto in February (it has since opened discount Saks Off 5th stores in Ontario), its debut was built around the tagline "Saks At Your Service."
The brand's research suggested that for Canadians, service any time and anywhere in luxury was a gap, and one that Saks is aiming to fill, says Stephane Ledoux, Saks' regional VP for Canada.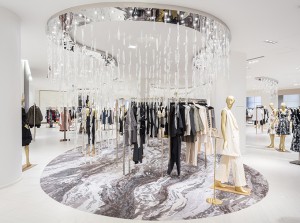 At launch, the "Saks At Your Service" program included a customized Mercedes-Benz van used to visit customers' homes, offices or hotels, offering beauty parties, helping address "fashion emergencies," and even picking up busy customers and bringing them to the store.
The stores themselves were designed with a museum-like quality, offering exclusivity in the assortment of designers, which Ledoux says are a bit "less safe" than what other retailers are offering. They also include two restaurant spaces and a "Food Hall" by Pusateri's Fine Foods, which give customers a reason to stay, Ledoux says.
Beauty is also a major component of Saks' in-store experience, with sales associates not tied to particular brands but acting as personal shoppers guiding customers through the store's assortment. Its downtown location also includes a fragrance bar where customers can create semi-bespoke scents for themselves.
Though the retailer has invested in some out-of-home and influencer campaigns ahead of its launch in Canada, its services are really its selling point, says Shayne Stephens, Saks' Canadian marketing director. "Services like this tend to spread word of mouth and we find that's the best marketing you can have."
And then there's Seattle-based Nordstrom, which has been offering online shopping to Canadians for some time (Canada is its top international shipping destination). It's taken a test-and-learn approach in the country by slowly opening its stores roughly six months apart and gaining feedback on the stores and merchandise, says John Bailey, spokesperson for the retailer. For example, it launched in Ottawa in March 2015 with spring apparel, underestimating the city's cold weather – a reminder to consider the differences from market to market.
Nordstrom – which first opened here in late 2014 – contends that it isn't a luxury player and its price range does extend wider than that of Saks or Holt Renfrew. It also has plans to expand its off-price Nordstrom Rack banner here.
But despite its wider price range, the retailer has also added to the high-end Canadian market and, like its competitors, its stores are about offering high-level service and experiences. In Vancouver, for example, Nordstrom has a dedicated concierge, free delivery downtown, personal styling, a café and lounge, and luxury candy boutique Sugarfina. Its Yorkdale Shopping Centre location, set to open in October, will include personal and beauty stylists and certified shoe fitters.
In terms of marketing, Nordstrom has been trying to hold up a mirror to the style of each city it enters, Bailey says, partnering with local style influencers for print, digital and OOH campaigns ahead of its openings (creative was led in-house, with Mindshare on media).
For its part, Holt Renfrew, Canada's luxury incumbent, has not been idly waiting for newcomers to woo its base. "First and foremost, it's about relationships," says Alison Simpson, Holt's SVP of marketing and customer experience.
The 179-year-old retailer, which has been closing its smaller locations in favour of renovating its flagships, has positioned itself for some time as an adviser. While it only began rolling out e-commerce last year (first with beauty and now with leather goods), its website is also a destination for content through its Holts Muse and Holts Men magazines, Simpson says.
Similarly, last year it partnered with Air Canada to launch a "Style Channel," targeting jet-setting style lovers with insider content, such as behind-the-curtain looks at international fashion shows.
Last year, the retailer also launched its Holt Icon Privileges program, focused on delivering experiences such as luxury facials or special dining in its café, rather than being discount-driven. Since launch, the program has gained about 210,000 members, Simpson says.
Holts is also helping to curate special experiences for customers in a broader lifestyle context, she says. For example, when this year's Juno Awards nominees were announced (the retailer is a sponsor), it created a "pink carpet" experience for a mother-daughter pair, including lunch at the store's café. "It really is about continuing to curate and make it an experience that they can't get anywhere else," she says.
The luxury menswear space is also adapting. About five years ago, Harry Rosen – which accounts for roughly 40% of the men's high-end market – realized it would need to step up to stay competitive against the U.S. department giants eyeing Canada.
"Sometimes when you get competition, you go on defence, but we went on offence," says Larry Rosen, chairman and CEO. In 2011, the retailer created its $100 million capital expenditure program, focused on major upgrades to its stores, increasing its footprint in Canada by about 25%.
That was probably a smart move, given that upon Saks' Toronto opening, its president Marc Metrick was quoted as saying that for Saks, "men are the new women" (the brand has a high-end assortment of men's apparel). And Rosen says his store's investment is working. Since Nordstrom opened in Vancouver last year, Harry Rosen's business there has actually grown by about 15%, Rosen points out. "If they're taking market, they're not taking it from us."
About two years ago, Harry Rosen also introduced its Sartoria Recognition Program, which offers tiered benefits based on annual spend, such as complimentary alterations, delivery, closet cleaning and private designer functions. It's also improving online customer service. In March, Harry Rosen launched a live chat feature on its website, allowing its sales associates (or "clothing advisors") to create their own personalized online "storefronts." Customers can then view their preferred advisor's general recommendations and favourite looks on their storefront page.
For Rosen, standing out and winning over customers is about continuing the thinking his father began in the 1950s. "His loyalty program was his outstanding knowledge of his customers and the service he provided."
So while improving digital and investing in e-commerce is undoubtedly important for luxury retailers, when it comes to the high-end, success is still in the service.
The omnichannel department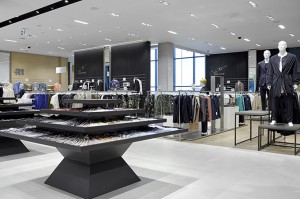 Not keen on falling behind, two of the country's established retailers are focusing on their omnichannel experiences.

Despite having a luxury offering through The Room, the Hudson's Bay Company banner's focus remains on having a wide array of products, from home to apparel. It's also been ramping up its e-commerce offering (the company recently purchased online site Gilt Groupe for US$250 million).

The retailer is focusing on making shopping as convenient as possible. In a project slated for 2017, it's adding a new web-enabled register platform that will allow associates to access the full assortment on the retailer's website, to help create a more seamless customer experience, says Eileen Di Leo, EVP of stores at HBC.

Integrating online with in-store is also important for La Maison Simons, which has been expanding nationally, including with its first Ontario store opening earlier this year (pictured). The retailer has offered e-commerce since 2009 and luxury makes up about 25% of its assortment. Now, it's aligning its online assortment with a greater bricks-and-mortar footprint.

"We just felt that there were a lot of creative projects we wanted to do and we needed a bit more size to do that," says Peter Simons, president and CEO. For example, it plans to open a $50 million eco-friendly store, with solar panels and electric vehicle charging, in Quebec City in 2018.

Correction: This article originally stated that Saks Off 5th has opened locations in Ontario, B.C. and Alberta. At press time, Saks Off 5th only has opened locations in Ontario, with locations in other provinces set to open later. Strategy regrets the error.