Calder Bateman names new CEO
Catrin Owen takes over leadership of the Edmonton agency as it moves toward more social good marketing.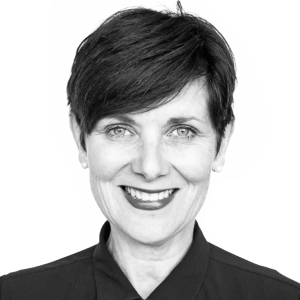 Edmonton's Calder Bateman has made long-time staff member Catrin Owen its new CEO as it heads in a new direction.
Owen has been with the agency since 1997, most recently working as one of its senior strategists. She is taking over CEO duties from agency co-founder and partner Margaret Bateman, who is moving away from day-to-day operations at the agency and into more of a strategic advisory role.
Previously, the agency was run by Bateman with fellow founder and partner Frank Calder, as well as partner and strategist Ernie Pasemko. Owen will announce the members of her new leadership team, with whom she will develop the agency's "second generation" business plan, in the coming weeks.
In addition to a refreshed brand image, website and business plan for its 25th anniversary, Owen says Calder Bateman is refreshing its positioning and the kind of work it does.
"We've been quite introspective over the last few months and when we looked at our practice over the last two-and-a-half decades, we realized what we've been very good at is addressing complicated social issues and prompting meaningful conversations about those issues," Owen says. "When you've got 28 people in the organization, you need to be realistic about keeping the engine fuelled, so we'll continue to do a broad range of work. But instead of waiting for that social good work to come to us, we're focusing on going after that kind of work very deliberately."
That work has included STI awareness campaigns for Alberta Public Health and anti-homophobia campaigns for the University of Alberta, earning recognition at awards shows including the Advertising Club of Edmonton, ADCC, AToMiC, ADC  and the Clios in recent years. "Pride Tape," an in-house initiative to promote inclusiveness in hockey by using rainbow-coloured stick tape, was recently used by the Edmonton Oilers during their annual Skills Challenge in January.
Owen says work like Pride Tape required Calder Bateman to utilize everything from PR and media relations to online fundraising methods to traditional advertising and marketing. She says the same media convergence and new digital platforms that have allowed these kinds of social conversations to flourish is also what makes it the right time for the agency to shift its focus to those kinds of projects, since they allow it to show its strength in fully integrated marketing solutions.
"We always had great strength on PR and public affairs and community engagement, as well as on the creative advertising and marketing side," she says. "But we needed to get more deliberate about bringing those strengths together on more integrated projects and that's what we're focusing on."