Mirum adds 14 after new business wins
The digital shop has also promoted three to ACD roles after being selected by UNICEF to revamp its digital ecosystem.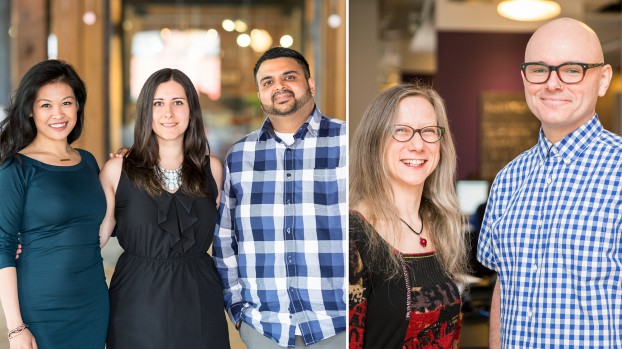 Pictured, left to right: Maxinne Abuyuan, Alex Korobova, Jesse Badwal, Sophie Henry, Scott W. Gray
Digital shop Mirum has made 14 new hires and promoted three of its staff after what it says has been a slew of new business wins, including UNICEF in New York.
Among its new hires are Sophie Henry as associate user experience director and Jesse Badwal as associate technology director. Henry, based in Montreal, has a decade of experience working in Silicon Valley, while Badwal comes on from Carlton Group, where he was a lead developer.
The other 12 hires are in roles including designer, writer, art director, front end developer, user experience analyst, project manager and account manager.
On the promotions side, Maxinne Abuyuan and Scott Gray (both previously senior writers) and Alex Korobova (previously senior art director) have now been made associate creative directors.
The news comes following new business wins and organic client growth for the shop. Among the new clients is UNICEF, which has chosen Mirum as its global partner for designing and developing its digital ecosystem, following a competitive review which at one point included around 50 agencies, says Mark Goodman, Mirum's CEO.
Goodman calls the new account a "major endeavour," including strategy and tech implementations for UNICEF.org's digital properties globally, in 22 languages.
Additional client wins will be announced in the coming weeks, and the shop has also won a handful of new clients that it can't disclose publicly.
Mirum, formerly Twist Image, became part of a global network last year. It underwent a reorganization last May and brought on a new CMO in June.