Sandbox adds to strategic leadership
Dave Rewak has been promoted to managing director, while the agency hired directors for media and production.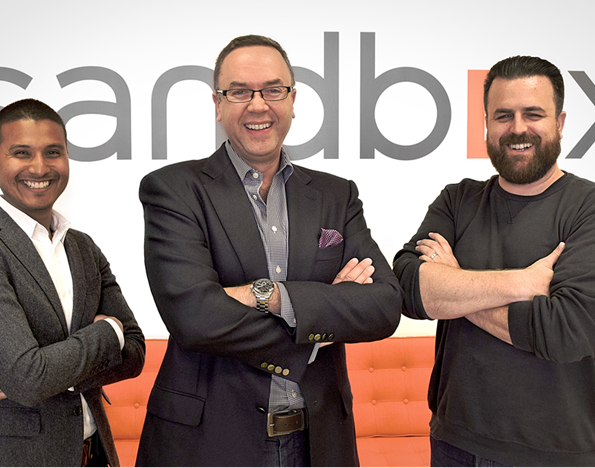 Pictured, from left to right: Brian Banchon, Dave Rewak and Adam Brain.
Sandbox has added to its leadership in strategy, project management and its Toronto office with promotions and new hires.
Dave Rewak, previously VP and director of strategic planning, has been promoted to VP and managing director. Adam Brain, director of digital strategy, has been promoted to director of strategic planning to fill Rewak's previous position.
"[Rewak has] always been acting as a strong leader, proposing things to improve culture and having a strong relationship with our clients," says Jill King, president of Sandbox. "He's generally been acting as a manager and leader before he had the title, so when we started reorganizing in January, he was a natural person to put in that role officially."
King adds that having Rewak in a managing director role frees her up to focus on more big picture concerns, such as new business opportunities and continuing the integration and collaboration with the agency's other offices following the creation of Sandbox last year.
In terms of new hires, Raj Dhillon was added as director of integrated production. Dhillon has previously been a producer at Anomaly and Taxi and worked on the account teams at Twist Image (now Mirum) and Fuse.
"We felt that model of having someone that project managers can report to and work with was a better way to resource our accounts," King says. "This idea that account services people are out being account services people and serving our clients, while project managers are back at the shop getting the work done is going to be an important part of the model for us."
Brian Banchon, previously on the account team for Volkswagen at MediaCom, has joined as media director. He is filling the role of previous VP and media director Brad Clarkson, who left the agency for a position at Cairns Oneil earlier this year.
"[Banchon's] whole background is in digital, versus him learning about the digital space five or 10 years ago out of necessity," King says.
Sandbox has also seen a number of leaders depart in 2016, including CEO Ted Boyd, ACD Shawn Wells and, most recently, VP and director of client services John Pace.
"We started to see the director of client services role as antiquated," King says of Pace's position, which was made redundant. "John was fantastic at the job, but we felt business leads should be responsible for their clients and their satisfaction, and they should be reporting into management, which means Dave and I. This idea that another person could be regularly communicating with 10 clients just didn't seem to make sense for us anymore."