Hitachi focuses on humans
The new Canadian-led global campaign shows how people are at the core of the tech giant's innovation efforts.
With new Canadian-led creative, Hitachi has launched a new global brand campaign that attempts to humanize the work it's doing in tech and innovation.
In a 90-second spot, we see the full path to executing an innovative idea, from first getting the idea to experimenting and working on it to having someone else come in to help you get through roadblocks.
The campaign was led by DentsuBos, which in February was once again selected to handle global creative for Hitachi following a private RFP with agencies from around the globe. The mandate renews DentsuBos' relationship with the brand, which first selected the agency to handle creative three years ago. The agency's Montreal office worked on the creative, while client services is being handled by Dentsu offices in Japan.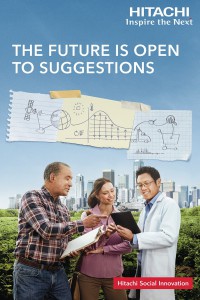 Sebastien Rivest, EVP, CCO and general manager of DentsuBos, says the new campaign focuses on humanizing innovation as part of Hitachi's platform of "social innovation," which has been positioning the company's work as beneficial to society.

"The first campaign we did with them focused on children asking questions about things like why they can't drink water from the ocean, and Hitachi would provide a story around that about the tech it has that can change it," Rivest says. "But even in that, the human aspect was the important part. Anyone can show great technology and the things it can do, but we're starting from humans, because they are the ones coming up with the idea and will, in the end, benefit from tech."

Rivest adds the "quest for innovation" and the work that goes into bringing an idea to life is a universal message that will resonate across different cultures and markets.

The campaign will also feature four shorter videos, focusing on individual stories from the hero spot, as well as print materials. A website, focusing on Hitachi's "social innovation" efforts, was created by Dentsu Aegis digital agency Firstborn, based in New York.