Cannes roundup 2016: What you need to know so far
Canada adds to its Lions tally, what makes Radio and Innovation winners, plus a note about our awards coverage.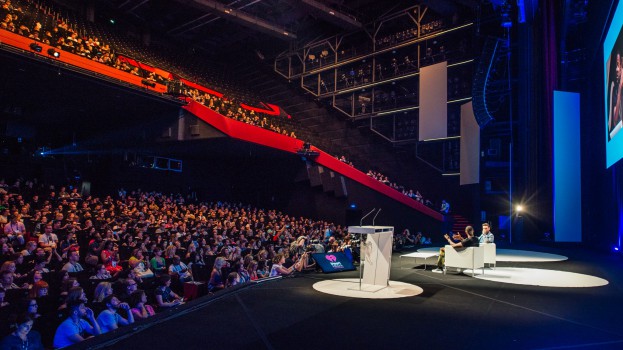 Another day in Cannes, a few more Lions for Canadian work.
On Tuesday night, Grey Canada and Critical Mass won Bronze in the PR and (first-ever) Digital Craft categories, respectively. In Design, Leo Burnett Toronto won Silver and Creative Artists Agency Los Angeles' work for Canada Goose took home Gold.
Elsewhere at the festival, we caught up with Pirate CEO and president of the Radio jury Tom Eymundson about what separated a good radio campaign from a Lions-worthy one. Ahead of his talk about the agency's work on the Justin Trudeau election campaign at the festival this Saturday, Bensimon Byrne's David Rosenberg told us about the lessons political advertising can offer brands.
Samsung Canada CMO Mark Childs gave us his input about why cool tech on its own doesn't make a campaign innovative as the brand prepares to be awarded Creative Marketer of the Year at the festival. We also met with leaders from SapientNitro to discuss their views on the difference between technological "ingredients" and innovation.
A few notes about our awards coverage. First, we've updated our Media shortlist story to reflect an additional campaign from Maxus Canada ("#TakePause" for BMO), which was initially listed incorrectly as a global nomination.
Second, internal teams at MTV worked in partnership with Toronto's Jam3 on the "Green Screen" campaign for the 2015 MTV VMAs, which has so far won Silver in Promo & Activation. MTV entered the campaign, and it has been listed as a U.S. campaign by the festival, but Jam3 was left off the lists as an oversight. Our awards coverage  will be amended to include the campaign, which will also be included in coverage of future categories. The campaign currently has shots at the Media and Cyber Lions, which will be announced later today.
Lastly, while Canada Goose is a Canadian brand, its "Out There" campaign was led and submitted by Creative Artists Agency in Los Angeles, and has thus been credited to the U.S. by the festival. Our awards tally will reflect this accreditation, but we will still be following and covering the campaign's success here at Cannes.
In case you missed it, here are the links to shortlist and winner coverage:
Friday: Canada nabs five Health nominations (Health)
Saturday: Ladyballs takes a Silver Health Lion
Sunday: Canada picks up 26 shortlist nods (Promo, Print, Glass)
Monday: Canada gets 28 more shortlist mentions (Design, Digital Craft, Outdoor, PR)
Monday: Canada brings home six Lions (Radio, Direct)
Tuesday: Canada gets 19 more shortlist noms (Creative Effectiveness, Creative Data, Cyber, Media)
Tuesday: Leo, Grey, Critical Mass and Canada Goose pick up Lions (Design, PR, Digital Craft, Outdoor, Product Design, Creative Effectiveness)
The winners from Tuesday's shortlists (excluding Creative Effectiveness, which was already announced) will be published this afternoon at 3 p.m. (EST). The next round of shortlists for Film, Entertainment and Entertainment for Music will be released on Thursday morning.
Here's the Canadian shortlist tally for 2016 so far:
Design: 14
Cyber: 8
Direct: 8
Radio: 8
PR: 6
Creative Data: 5
Print & Publishing: 5
Health: 5
Outdoor: 5
Media: 6
Promo & Activation: 6
Digital Craft: 3
Creative Effectiveness: 1
Glass Lion: 1
Mobile: 0
Product Design: 0
Pharma: 0
And here's the winner tally:
Health: 1 (Silver)
Radio: 5 (Bronze)
Direct: 1 (Bronze)
Creative Effectiveness: 0
Digital Craft: 1 (Bronze)
Design: 1 (Silver)
PR: 1 (Bronze)
Promo & Activation: 1 (Silver)
Print & Publishing: 0
Glass Lion: 0
Product Design: 0

Featured image via the Cannes Lions International Festival of Creativity Facebook page.