Old Tomorrow launches craft shandy
The ginger ale-based beer cocktail finds a more subtle way to give beer drinkers new flavours.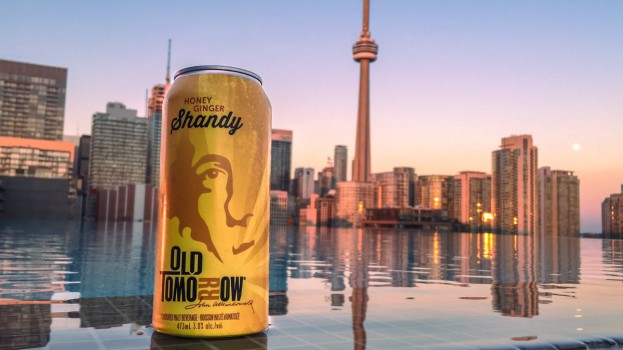 Ontario craft brewer Old Tomorrow is expanding its portfolio to meet the changing tastes of beer drinkers, launching the Honey Ginger Shandy.

The beer is based on the traditional British beer cocktail, and mixes beer with ginger ale as well as honey and lemon flavours. Pat Macdonald, co-founder of Old Tomorrow, says the brewery was looking for a flavour that could be thirst-quenching for the hot summer months, but also differentiated from other beer cocktails, which tend to either be very sweet or very sour. She adds that ginger ale is a flavour that is "part of the Canadian culture," something very important to a brand like Old Tomorrow, named for Sir John A. Macdonald's nickname.

"We're seeking to create truly distinctive products that celebrate Canadian greatness in some way," Macdonald says. "This breaks us into new territory, but the recipe is bringing it back to our Canadian and British traditions, with a flavour many Canadians already love."

Over the last year, breweries big and small have been releasing products that take beer into new flavour categories as they fight to take back market share from wine and spirit brands. However, Macdonald says that consumers already in the category that are familiar with craft brewers are becoming more discerning in their tastes and looking for more variety.

"The customers we talk to, they like IPAs, but they don't want to only drink IPAs," she says. "What our customers are really excited by is a flavour profile they haven't had before, and could be paired with food or an occasion in a way they wouldn't have expected from other beers."

Other entrants into new beer flavours have included Labatt Breweries of Canada, which launched Bud Light Apple to join Bud Light Lime last year, and Molson Coors' Mad Jack adding ginger and root beer flavours to its portfolio, which launched with its own apple flavour in 2014.

Like Old Tomorrow's other beers, the Shandy is primarily available in LCBO stores, as well as several dozen restaurants and bars across Ontario. While many independent breweries have lamented the limitations of only being able to sell their products in LCBO or Beer Store locations, Macdonald says the LCBO has been an ideal setting for Old Tomorrow, and the Shandy in particular, as it encourages customers to seek out and try new products.