Western Union's more modern face
The brand taps Canadians' selfies for a new campaign aiming to position it as a more tech-savvy brand.
Western Union is going after a more modern crowd with its latest campaign, part of a new global brand positioning.
The "This is WU" global platform is the brand's attempt at connecting more with younger and digitally-savvy consumers.
Consumer research suggested that many people still have the perception that Western Union is mainly a bricks-and-mortar type of brand, says Joycelyn David, director of marketing for the brand in Canada. While its retail locations are important, it also wanted to promote its digital offerings and show how it's relevant, she says.
To help bring the new platform to life in Canada, the brand tapped into one big digital trend among consumers, especially younger ones. "Everyone knows how to take a selfie," David says.
The brand put out a call on social media and through online ads for Canadians to upload their selfies for a chance to win a cash prize (won through a combination of voting and judging). When they uploaded their selfies, they were also asked to name a country where they transfer money.
Once they submitted a selfie, they were also told their picture would appear on certain dates on digital OOH boards in Toronto and Vancouver, prompting some people to even go and take selfies-within-selfies with their original pictures, David says.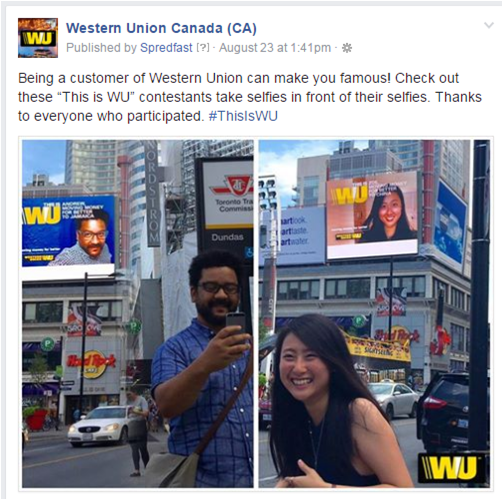 The idea behind the campaign and new global platform is to help modernize the concept of money transfer services and show how young, tech-savvy, mobile and globally diverse the brand's customer base really is.
Within about a six-week period, the campaign picked up about 200,000 submitted selfies and votes.
Five grand prize winners were then flown to Toronto for a photo shoot. Creative from that (pictured, right) – again, aimed at showing the diversity of Canadians – will run in an OOH and online campaign beginning Oct. 1.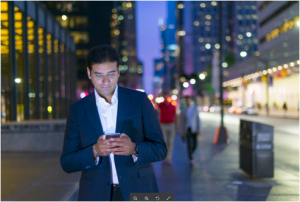 The campaign coincides with the brand's 25th anniversary in Canada and is bigger than typical marketing campaigns for Western Union in Canada, although it has been working on shoring up its customer experience and loyalty program this year, David says.

Western Union worked with AV Communications on the concept and execution of the campaign, with Citizen Relations on PR support.