Coca-Cola Life launches in Canada
The naturally sweetened drink comes to Canada as the brand hopes to offer more choice to consumers.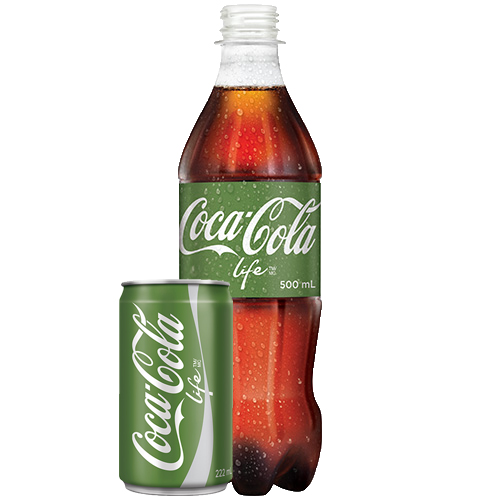 Coca-Cola has brought its Coca-Cola Life product to Canada for the first time, a move it says is its first significant product innovation since Coca-Cola Zero.

Sweetened with stevia and cane sugar, the company says the product has 50% fewer calories than regular sodas. It will now be available in 500 ml bottles, 12- and 15-packs of 355 ml cans and six-packs of 222 ml mini cans at major retailers across Canada.

The idea was to offer more choice to Canadian consumers, particularly those who are calorie-conscious (that was also the impetus behind offering the mini can format).

In a release, the company stated that it will be using an "extensive sampling initiative" to get one million Canadians to try the new drink.

The launch is also being supported with a "Taste the Feeling" marketing campaign (its global brand platform launched earlier this year), including TV, retail activations, digital and social media support including an influencer plan, PR and in-store POS (overall, the brand is using 80,000 pieces of merchandising and sales tools in the market, including racks and bins, printed displays and POS materials like posters and tent cards).

It will also have a partnership with Well.ca and one with Vice to create video content with Canadian chefs sharing recipes that pair with the new cola.

Coca-Cola is working with Ogilvy & Mather on creative adaptation and digital media, Carat on the media buy, Mosaic on retail activations and sampling, Hill + Knowlton Strategies on PR, and LPI on in-store POS.