National Ballet, TTC team up to move Torontonians
A new partnership hopes to get people rethinking live dance and taking transit.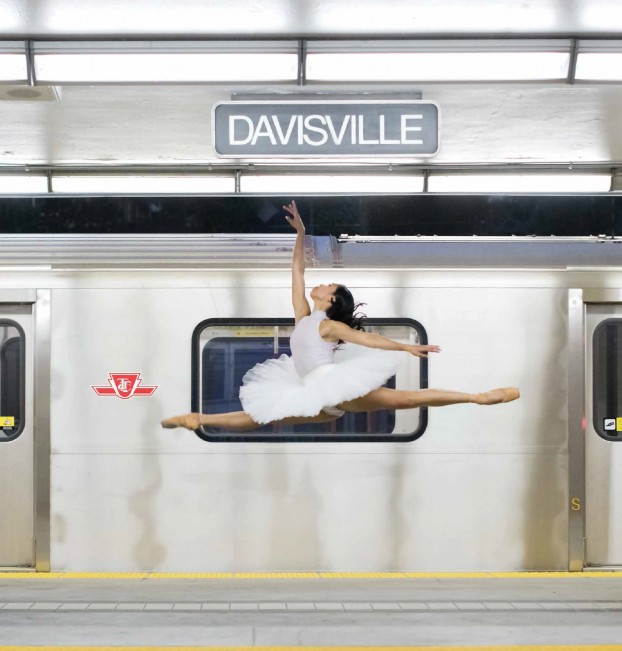 The National Ballet of Canada and the Toronto Transit Commission have partnered on a new campaign, aimed at getting people in the city to rethink the art form and their public transit.
The new "We Move You" partnership is centred on creative featuring dancers from the National Ballet captured in TTC locations.
That juxtaposition between a quintessentially urban setting and what's often a very codified art form is something that the National Ballet wanted to bring to life for consumers, says Julia Drake, director of communications for the organization.
Those images will be used on vehicle and platform advertising within the TTC network, including on wrapped streetcars. The campaign, led in-house by the National Ballet, also includes five videos being shared on social media and on the video screens on TTC subway platforms.
Online content, including video and social media, has become a larger part of the National Ballet's marketing strategy, given that it's more cost effective than other media, but it does still run print ads and a great deal of outdoor advertising, Drake says.
Roughly 40% of the National Ballet's revenue comes from box office sales, including subscriptions. The organization is attempting to get all ages of consumers to consider live ballet as an option for entertainment.
Other than both organizations "moving people," the tie-in is also practical, considering the National Ballet's venue has a TTC subway stop and many of its young dancers take public transit daily, Drake says.
For its part, the TTC has been amping up its partnerships with organizations and events in the city since the Pan Am Games and Parapan Am Games last year, to reframe its brand around lifestyle and being a connector of people, not just a functional, point A to point B feature of the city, says Cheryn Thoun, head of customer communications.
That's included co-promotional partnerships with Maple Leaf Sports and Entertainment (with the Raptors and Toronto FC) and the Blue Jays, and boosting more support for Pride Toronto.
Its goal is to increase ridership with more "leisure riders," and not just customers who use the TTC to commute to work Monday to Friday, she says. The idea behind partnerships with cultural organizations is to remind people that the TTC is a good choice for travelling to and from their nights out.
On Nov. 14, the two organizations will also hold an event at Union Station, featuring the National Ballet's artistic director Karen Kain and TTC CEO Andy Byford commenting on the campaign and the dancers featured taking part in a barre class.