Republic reorganizes its strategy offering
The agency is focusing more on the practice with some key additions to its team.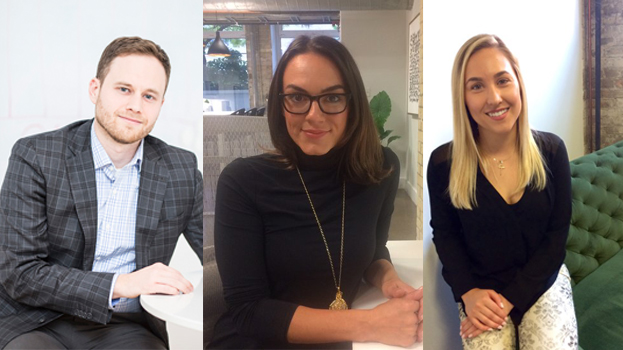 Pictured, left to right: Republic's VP of strategy Chris Hopper, director of storytelling Jessica Dell'Aquila and project manager Julia Ludwig.

Toronto's Republic has reorganized to put more emphasis on developing its strategy offering, while making some new additions to its team.

The restructuring includes the creation of a new strategy practice at the agency, led by Chris Hopper, who has been named VP of strategy. Hopper has been at Republic for two years, joining after an eight-year run on the account team at J. Walter Thompson Canada.

Kathy Murphy, president of Republic, says that a strategy offering has been part of the agency's work prior to this, but the reorganization is a way to give it more focus and develop the products and processes that enhance those capabilities.

"We're a small but growing agency with strategy and storytelling at our core, and as we grow we have an opportunity to really build out the strategy side of that," she says. "It's really easy for agencies to keep going as they have been, especially when you're growing, but we took the opportunity to step back and say, if this is what we believe, we should ensure that the structure of our organization delivers on that."

Hopper has been tasked with overseeing the expansion of Republic's strategy offering, including understanding the consumer journey and "empathy mapping," as well as the agency's proprietary "WarRoom" planning platform.

"In order for a brand to live with a purpose and deliver it in a meaningful way, you have to understand the consumer and look at them from an empathy perspective," Murphy says. "That then leads to looking at what the customer journey is and understanding their end-to-end experience with your product. Combining and understanding those two things means you're not forcing a relationship with them, you're contributing something to their lives in a meaningful way."

Jessica Dell'Aquila has been hired as director of storytelling, leading that element of Republic's offering. She was previously marketing director at Engagement Labs and also has experience at networking platform Ten Thousand Coffees, as well as at Fleishman-Hillard.

Her diverse background on client and agency projects made her the right fit "to own storytelling within our organization," Murphy says.

Julia Ludwig has also been hired as a project manager. She previously worked on national media programs and events at McDonald's Canada as external communications coordinator, and at SDI, working with clients including Molson Coors, Pepsico and World Vision.

Also named a project manager at Republic is Lawvin Hadisi, who has been promoted from her previous account coordinator position. Hadisi has been with Republic for nearly two years.

Rounding out the additions at Republic are Matthew Teed-Arthur and Alycia Walker, both interns who have been hired full-time as coordinators.

Last year, ad industry vet Terry Johnson joined Republic as chairman, providing advice on business structure and strategic direction to founder and CEO Beverley Hammond, and now to Murphy, who joined in August as president.