Why are these guide dogs surfing online?
AMI uses cheeky doc-style spots to show why websites need to be more accessible.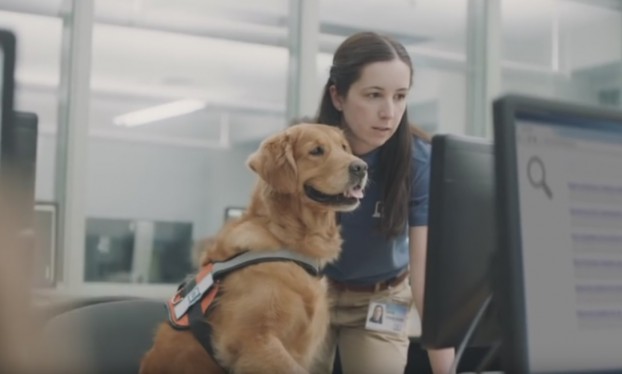 It's easy to find pretty much anything you want on the internet. But is it as easy for those who are visually impaired?

Accessible Media Inc. (AMI) is tackling the issue of website accessibility with a cheeky new digital campaign, led by Juniper Park\TBWA.

The online videos, in English and French, are a documentary-style view into "K9-Online," a training facility that helps guide dogs learn the ropes of the internet to help the blind and partially sighted.

Of course, the training facility isn't real (probably a good thing, once you see how its clients act up), but the message is clear: the internet should be more accessible.

The goal was to put a light-hearted, entertaining spin on a serious issue, with the spots ending on shots of AMI's completely redesigned website, which was made accessible for the blind and partially sighted, says Peter Burke, AMI's VP marketing and communications.

The non-profit media company, which provides accessible TV channels, has run a research panel of Canadians who self-identify as blind or partially sighted for the past five years (it's now up to about 1,100 participants). That panel is used in lieu of traditional media research, which doesn't always capture AMI's target audience.

Unsurprising to the organization, blind and partially sighted Canadians are as interested as the rest of the country's consumers in accessing media when they want and on the device of their choosing. This insight prompted AMI to redesign its website to be fully accessible for things like screen readers.

Though the goal of the campaign is to promote that change, it's also meant to encourage Canadian developers and businesses to incorporate accessibility into their web projects, and show that great usability, design and accessibility for the blind aren't mutually exclusive, Burke says. That's especially important as Canada's population ages and acquired disabilities, including loss of sight, become more prevalent.

AMI is supporting the videos through its YouTube channel and Facebook, along with its community partnerships, such as with the Foundation Fighting Blindness and CNIB.