DAOY Bronze: Taxi's past is prologue
As it approaches a leadership transition, the agency stays true to its roots.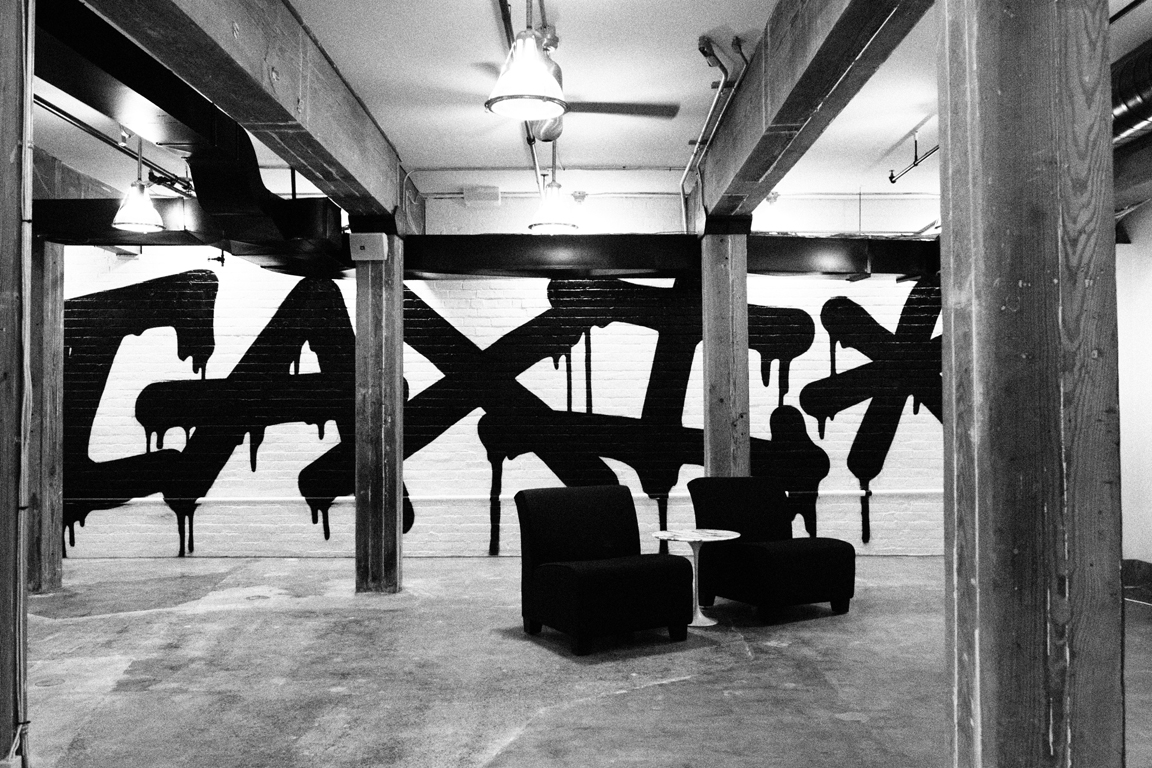 At the beginning of next year, Taxi's co-founder, chairman and CCO Paul Lavoie will become the agency's "chairman emeritus." He will still provide guidance to CEO Rob Guenette and the rest of the management team, but he's effectively handing off leadership of the agency he founded with Jane Hope in 1992.
So the end of 2016 is going to be a turning point for Taxi and will pave the way for its future. But that path looks a lot like its past, and it's by design.
Matt Shoom-Kirsch, who was promoted to North America COO a year ago, says that after the agency's last major turning point (the 2014 loss of Telus as a client) there was a sizeable effort to restructure. What came out of that, though, was the realization that the best way to ensure Taxi's success is to stay true to its roots: being incredibly nimble in its work, with high accountability and strong leadership.
"Other agencies are trying to figure out how to reorganize themselves or revive their model," says Shoom-Kirsch. "We fine tune [our structure] here and there as we go along, sure, but we've done that to preserve our nimbleness, not to create it from scratch."
Taxi has been doing that fine tuning by stripping away the layers between creatives and clients. Jordan Doucette and Jeff MacEachern, former ECDs at Taxi Toronto and Taxi 2, respectively, were given the creative torch as co-CCOs in Canada. Guenette points to their close relationship to long-term clients, like Kraft and Canadian Tire, as reasons for their selection, adding that there are no plans to fill their former ECD positions. Having been with Taxi for so long, Doucette and MacEachern are deeply familiar with both the culture of the agency and the client business they've been tasked to steer.
"They're going to be working CCOs leaning into the business they've already been a big part of – on the ground with as few barriers between that as possible," Guenette says. "Paul and I and Jane Hope did it together like that. This is setting up the next collection of like-minded people who can collaborate in the same way to take Taxi through its next steps."
There has been the need for some replacements though, as leaders like Taxi 2 general manager Daniel Shearer and chief strategy officer Mark Tomblin both left this year. But, keeping with the importance of culture and shared values, most of the agency's major vacancies have been filled from within. Haneen Davies, who had been hired the year prior, was tapped to take over from Shearer at Taxi 2. Christine Maw was promoted to head of strategic planning.
The president position has been split up as it was in the mid-2000s, with Vancouver GM Mike Leslie taking the role in English Canada and Montreal general manager/ECD Pascal De Decker sharing the role in Quebec with Jacques Labelle, the president/CEO of Saint-Jacques Vallée Y&R, which Taxi absorbed over the summer (it did the same for Y&R Toronto last year).
The agency's client portfolio also has a lot of familiarity to it as it expands. Taxi had already handled Kraft Peanut Butter, KD and Maxwell House brands, but after last year's Kraft Heinz merger, the shop was brought on to lead new additions to the CPG's family, including Heinz Ketchup, Heinz Baby and Renee's Dressings, as well as Kraft mainstay Classico.
Taxi has also returned to the telecommunications category by winning this year's Fido review, as well as to the beer category after landing Moosehead Breweries.
Shoom-Kirsch says the longevity of its relationships is a point of pride. Taxi has been working with Canadian Tire since 2005 and Pfizer since 2002, and it worked with Telus for 18 years before the account moved. It has been Boston Pizza's AOR for more than six years and joined Kraft's roster in 2011.
"It is so rare these days, and a testament to how we're able to build relationships through our approach to the work," Shoom-Kirsch says. "Our clients are rolling with the changes in their marketplace. They're setting themselves up so they're not abiding by traditional stodgy processes, and want to work with partners who are set up the same way."
Shoom-Kirsch says the values Taxi has re-centred itself around since 2014 align with the demand for quality work delivered "at the speed of retail." Irene Daley, associate VP of strategic marketing at Canadian Tire, says the length of her company's relationship with Taxi has built the trust required to move that fast.
"They know how we work, they get our business model and they get our brand," she says. "Our culture is fast-paced, and they adapt to that because they're fast-paced as well."
New Business
Moosehead, Fido, Fempro, incremental Kraft Heinz business (Classico, Heinz Ketchup, Renée's Dressings, Heinz Baby), Miracle-Ear, Pyrrha, Scotiabank More Rewards Credit Card, Danone, Fromageries Bel, Bombardier, various Pfizer brands
Key Hires
Haneen Davies, general manager, Taxi 2; Jay Gundzik, CD, Taxi Vancouver
Staff
197
Cases
Campaign: Save the Pumpkin
Client: Nabob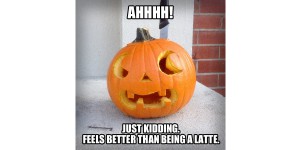 To boost its "Respect the Bean" positioning, Nabob joined the conversation around a most contentious fall trend – the pumpkin spice latte. It was the perfect opportunity to express the brand's point of view by joining a trending topic and reminding people that Nabob believes in quality coffee without the frills.
The "Save the Pumpkins" campaign gave fed-up pumpkins a voice in a 60-second online video that implored coffee drinkers across the country to put an end to the "pumpkin spice-ification" of everything. The video was amplified with promoted tweets, targeted banners, sponsored Buzzfeed articles and even t-shirts.
To reach its target of discerning coffee drinkers – who are passive Internet users and skeptical of online advertising – Nabob designed shareable content to help them easily express their frustration at the deluge of pumpkin-spice content in early fall. Traffic to the website went up by 480%, with a 501% increase in unique visitors.
Campaign: How Old
Client: Covenant House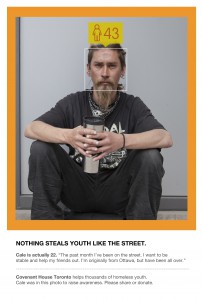 The cold winter months and the Christmas season inspire people to donate to causes, but Covenant House Toronto needed to prompt people to think about kids on the street at all times of the year.
To get people to confront their biases around youth who are often overlooked (and thought of as tough, dirty squeegee kids), the organization and Taxi needed to get people to face a truth: "Nothing steals youth like the street."
To tell real stories, Taxi interviewed and photographed actual street kids in the city, capturing their heartbreaking stories.
Using Microsoft's How-Old.net website, it uploaded photos with a shocking result: each kid was reported to be nearly twice their actual age.
The message was clear: abuse, neglect, sexual assault and harassment are the reasons that forced them onto the street. And these individuals, while they look old, are in fact young, scared children.
The How-Old.net results and real stories were shared on social media, with the pictures gaining attention.Along with international media attention, donations to Covenant House increased by 69% and traffic to the site increased by 20%.
Campaign: Moving Day
Client: Leon's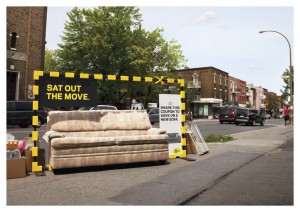 Leon's Furniture is relatively new to Quebec, a market dominated by well-loved local players. To drive interest in the brand, Taxi leveraged a unique cultural ritual in Quebec – Moving Day.

Throughout Quebec, the campaign began by linking Leon's to "Move-Worthy" furniture, a term created to distance it from the piles of unwanted furniture cluttering the streets. Three-dimensional coupons that could be redeemed by taking a smartphone picture were created, framed and placed near the discarded furniture across the city, turning the furniture itself into discounts for "Move-Worthy" items at Leon's.

The campaign tapped into consumers' existing behaviour – taking and sharing photos on their smartphones. The campaign generated awareness of Leon's offerings and got Quebecers to reconsider their furniture purchases by bringing the overabundance of discarded furniture to light in a creative way.

Compared to the same sales period as the previous year, Leon's saw a 34.7% increase in sales and a 15.8% increase in store traffic – a big jump for a company with only 1.8% of the market share. It also generated over one million earned media impressions.