Stereo+ unveils brand overhaul
Refreshed design, a new platform and modernized stores aim to help the audio retailer win younger customers.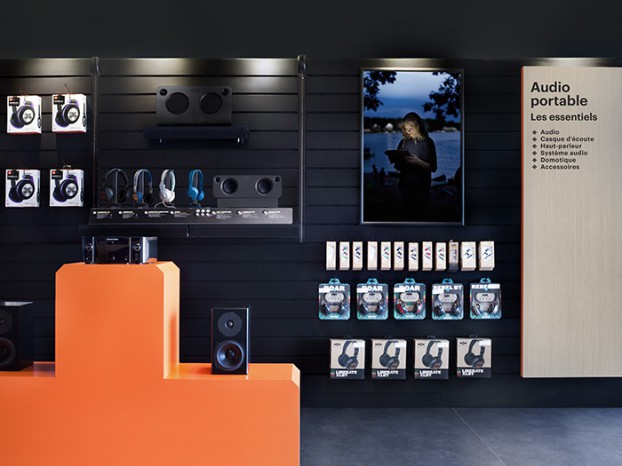 By Chris Powell
The home stereo market was once dominated by expensive component systems. But modern stereo systems are increasingly nothing more than a widely available Bluetooth speaker coupled with an iPhone and a Spotify subscription.
At the same time, the twin forces of e-commerce and big box retailers like Walmart and Best Buy have eaten away at the market for traditional stereo stores – the latter through common industry practices like price slashing, all supported by extensive mass-media marketing.
"Consumers have been educated to believe that electronics are cheap and always on sale," said Stereo+ president Stéphane Roy. "The only thing that the big box retailers have is aggressive pricing. They're almost giving it away."
That is the backdrop against which Roy's Montreal-based chain recently enlisted Lg2boutique to conduct a comprehensive brand overall that includes a sophisticated new logo, with a plus sign replacing the word "Plus," a new brand platform ("Inspire every moment"), as well as a new in-store look.
The extensive store remodeling ("every wire in the store was pulled out," said Roy) has been carried out in four of Stereo+'s 25 locations (Trois-Rivieres, Senneterre, Sept-Iles and Drummondville), with the balance expected to be complete by mid-2017. Roy said he expects every store to feature the updated Stereo+ logo by the end of the year.
"When we hired Lg2boutique to analyze our company, they helped us realize we were really stuck in 2001 or even before that," said Roy, whose father founded the company approximately 35 years ago, during the heyday of the home stereo market. Roy said that the company contemplated several other agencies for the project, but Lg2boutique "covered all the needs we had."
The Stereo+ stores have been divided into five zones (TV, wearables, IT, home control and audio-visual), while the new plus sign in the company name has been given a physical manifestation in the form of in-store furniture that can serve multiple functions (bench, display unit, etc.) while helping constantly refresh the in-store look.
"You know you're not in a Best Buy when you enter a Stereo+ store," said Helene Fortin, an architect with Lg2boutique.
He said that declining sales have forced independent retailers like Stereo+ to revisit business practices such as product assortment, while at the same time right-sizing its stores for the new retail environment. Most crucially, it is looking introduce online sales while replicating the type of service customers would receive in-store.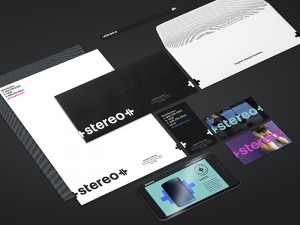 The new brand identity is part of major overhaul for Stereo+, which Roy said is working to bring down its customers' average age from 55+ to between 35 and 44. "We're getting to where we want to be," he said.

Roy said that while Stereo+ is "flirting" with the premium market, it remains primarily focused on the mid-price market, which he said is under-served in Quebec.

"Yes we're selling a $15,000 pair of speakers, but we also sell entry level TVs," said Roy. "We're kind of the best of both worlds."

The company has also replaced approximately 30% of its staff with younger employees, said Roy, bringing down the average age of its employees from 55 to about 37.