Olympic Committee tech deal invests in athletes and fans
The organization teams up with analytics giant SAS to help with both athlete performance and its fan engagement.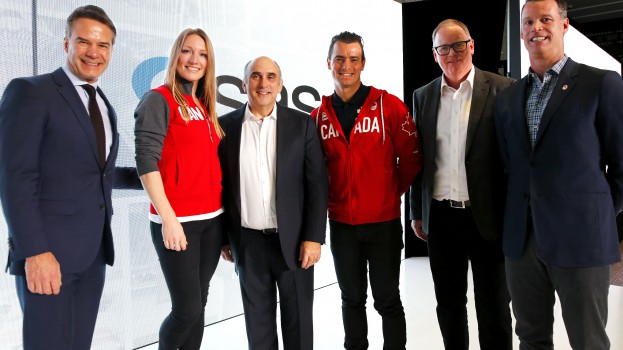 From left to right: Christopher Overholt, CEO of the Canadian Olympic Committee; Canadian Olympian Heather Moyse; Carl Farrell, SVP and CRO of SAS; Canadian Olympian Adam van Koeverden; Cameron Dow, president of SAS Canada; and Canadian Olympian Mark Tewksbury.

The Canadian Olympic Committee has partnered with analytics firm SAS to find new ways to improve performance for Canada's athletes on the world stage. But along the way, the partnership may also change how the COC operates internally and interacts with its fans.

As part of the eight-year deal, SAS will make its full suite of analytic tools available to the Committee, its coaches and administrators, as well as national organizations for individual sports to drive better results for Canadian athletes. SAS's tech can analyze and improve athlete performance, and  help  coaches and administrators better determine where to allocate their often-limited resources. The COC will  form an analytics advisory council of data scientists and sports experts to guide the work.

But the partnership could also eventually see the Committee use SAS tools to help drive fan engagement. Carl Farrell, SVP and CRO of SAS, pointed to the company's past work with teams in the NHL, MLB, NBA and Major League Soccer as examples of how the fan engagement side of the deal might work.

SAS used its analytics platform to monitor things like gate revenue at facilities, merchandise sales, the ticket resale market and other consumer behaviour  to find the best ways to get fans to attend events and watch broadcasts.

"It's pretty much a blank cheque," says Cameron Dow, president of SAS Canada. "Our technology is fit to purpose, so as this council gets going and we start to direct the work, it will inform what specific technology we use. It's an eight-year partnership, so we think it'll evolve over time. The Olympic Committee, the council and coaches and their appetite to embrace these technologies, will inform this as well."

"The immediate priority is the core mandate of trying to enable to Olympic team to do better, but that doesn't mean that won't impact other capabilities around fan experience or marketing in general," said Christopher Overholt, CEO. "The Olympic team is a product and the more successful that product is, the more it can be pushed back into the broader system."

Financial terms of the deal were not disclosed.