A smarter way to personalize (column)
Salesforce's new Canadian CMO Tricia Gellman on how AI fits into the high standards of modern consumers.

By Tricia Gellman
With 2016 already a fading memory, Canadian retailers are turning their attention to boosting sales for the year ahead. And they've certainly got their work cut out for them.
It's no longer enough to have an occasional promo or ad trumpeting a great value. Today, retailers must also leverage whatever customer data they have to provide more personalized shopping experiences and enhance the entire buying journey.
This complete experience is where the rubber meets the road. Modern shoppers – especially millennials – have incredibly high expectations, but also appreciate brands that make a sincere effort to know, understand and predict what and how they like to buy. According to our recent Connected Shoppers Report, roughly three in four Canadians appreciate receiving promotions or complementary product offers based on their individual purchase histories.
Personalized experiences cannot be an afterthought, and consumers expect consistency throughout their buying journey. Indeed, 45% of Canadians would allow retailers to capture information about their purchase habits and preferences if it would lead to faster, more convenient in-store service. That percentage is even higher (55%) for tech-savvy millennials who indicated they'd like retailers to use location-based services to identify them on shopping trips and alert them to special – and, ideally, personalized – nearby deals.
Personalization is also important  because most people are too busy to keep up with the volume of ads coming their way that have nothing to do with their personal shopping habits. Nearly 60% of respondents in the Connected Shopper Report say they feel overwhelmed by all of the digital and physical retail marketing communications aimed at them.
The takeaway from all of this? Marketers need to reach out to shoppers less often but with more relevant offers. After all, the one emotion they don't want to raise with customers is annoyance.
The tech connection
Consumers know retail brands are using data to drive personalization. However, the Connected Shoppers report revealed that 47% of respondents – most of whom are in Canada, the United States and United Kingdom — felt annoyed with the way retailers communicated with them after they purchased an item in-store and received an online offer via another channel for the same product.
This suggests there is ample room for improvement on personalized communications. However, a Deloitte survey of 300 CMOs and heads of marketing departments across Canada found that over half of marketers do not have the in-house skills to harness data to achieve the level of personalization they might need to be successful.
One way for marketers to get a jump start on personalization is through the use of artificial intelligence. While no one is expecting parity with human intelligence today or soon, AI has big implications in how we live our lives.
With AI, marketers can automatically help businesses figure out what individual customers want, often before they even know it themselves. AI is already being used to provide shoppers with personalized, online product recommendations based on their buying habits (think about the last time you were on a news site and saw an ad for something you'd just viewed on Amazon). AI is also the backbone for virtual assistants, such as Siri and Cortana, which could start alerting shoppers to daily deals or offers they should know about. And it is core to the rising number of chatbots and other digital tools built for customer care.
Delivering the best customer experience is critical to the engagement of consumers and the growth of retail in the future. The more we can understand about an individual, bring this data together and take action, the more valuable this experience can be. This is why AI should be a consideration in every marketer's strategic playbook. In tandem with  CRM, it can empower companies to take action and, beyond the examples above, can provide sales and marketing teams with predictive lead scoring, accurate sales forecasts and recommendations for things other than products — for instance, which collateral to send a prospective car buyer to help close a deal.
Moving into 2017, think about ways to use AI, CRM and other technologies to improve customer experience through more personalization. These are exciting times with huge innovations emerging every day to help businesses drive bottom line results. Now that's something to look forward this new year.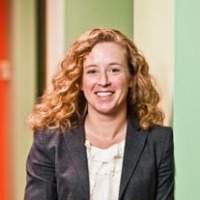 Tricia Gellman is Salesforce's first CMO for Canada. Having most recently been VP of demand generation in the company's San Francisco office, she takes on the newly created position this year.

Featured image via Shutterstock