Ones to watch at ResolveTO
From chatbots to machine learning, check out which startups stood out at the new event's debut.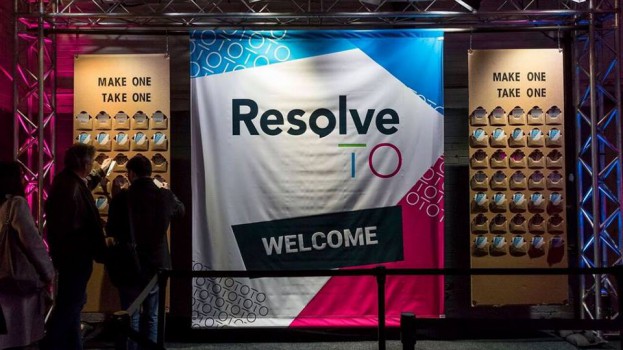 A number of brands came to the first ResolveTO event looking for new startups to invest in and partner with, but some of the stand-out companies might be of interest to those that weren't able to make it to the competition floor.

ResolveTO was created by Montreal's Startupfest as a way to connect startups more directly with potential corporate partners. Taking place last week, ResolveTO featured a "speed dating zone," where partner companies and organizations each presented a different challenge or goal. Any startup in attendance could line up and pitch how they could work towards that challenge or goal, with a different prize or opportunity at stake.

The big prize, however, came from Startupfest itself, with a $100,000 investment from a group of angel investors up for grabs in a more general pitch competition. The winner was Intelocate, which aims to optimize retail supply chain management in order to improve in-store experiences..

Outside of the speed-dating zone, the best on-stage pitch was awarded to Beagle, an AI-powered platform that streamlines contract reviews by learning about and seeking out the aspects that are most important to a company (or present potential risks).

Mercedes-Benz and the Ryerson University-based DMZ partnered to look for new business models for customer data and sales processes, and three startups qualified to be invited to a later meeting with Mercedes-Benz executives for a potential pilot program. The first was DataChili, which uses machine learning to better organize large data sets and also make predictive recommendations for ways to transform that data. The second was VisBrain, which works with companies to identify previously undiscovered insights in data. The third was Beam Messenger, a messaging app that lets users see what someone is typing in real-time and retract sent messages.

Meanwhile, Fujitsu and the DMZ were looking for innovations in the physical retail experience, with a prize of attending the Fujitsu World Tour tech event. The prize went to iMirror, an interactive mirror that allows for personalized experiences, offers and functions like searching inventory.

StartUp Here, which was looking for a bot-focused business solution, gave a $25,000 investment to Success.ai, a chatbot that aims to simulate the natural language of a customer service rep in automated conversations.

Even some of the less directly markteting-focused startups have potential uses for marketers. Software and app developer TWG awarded a one-day workshop session to Acerta, a platform the detects anomalies and potential errors in machine learning, a common fear for those weary of embracing AI.

IBM offered a six-month mentorship program within its Innovation Space for a start-up that offered a solution for finding internal candidates for job openings. It went to Rewordly, a collaborative editing and annotation platform for static files like web pages and PDFs. Rewordly also won a partnership from Thompson Reuters and The Globe and Mail to potentially bring new experiences to its customers and readers.

One of two CBC Media prizes went to Dash MD, an app that helps patients manage and find care after leaving a hospital or healthcare facility. Also in the healthcare space, Highline BETA gave its prize of a $25,000 investment to an insurance, financial or health start-up to MedStack, a cloud platform that helps streamline the development of healthcare apps by simplifying the privacy compliance and system integration aspects.