Tech in Action: Data that drives you crazy
Virgin Trains prompts drivers to consider alternative transportation using real-time traffic data and image recognition.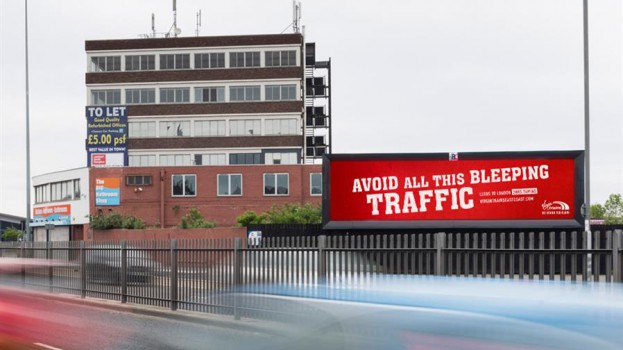 Virgin Trains is using real-time data to quantify just how much time drivers in the U.K. waste stuck in traffic.

A digital billboard near a busy road in Leeds features messages like "Avoid All The Bleeping Traffic" and "Why Drive Yourself Crazy?" next to a time for how long it will lake to get to London in current traffic conditions.

Another board next to a traffic light in Newcastle takes it a step further, using image recognition to single out specific cars and send them messages along the lines of "Hey silver Ford driver, stop seeing red," before giving them their own projected travel time.

Virgin Trains worked with U.K. agencies Krow, Manning Gottlieb OMD and Talon on the campaign.

The campaign, which aims to get people to seriously consider the train over their cars for their travel needs, certainly reminds us of a train-related campaign a little closer to home in Via Rail's "Why Don't You Take the Train?"

But adding a bit of live data to a similar insight helps to drive home to commuters how much stress a different mode of transportation might save them.