CASSIES Silver: Breathe Right's very personal snoring pitch
How Grey and the brand pulled off the most intimate targeting.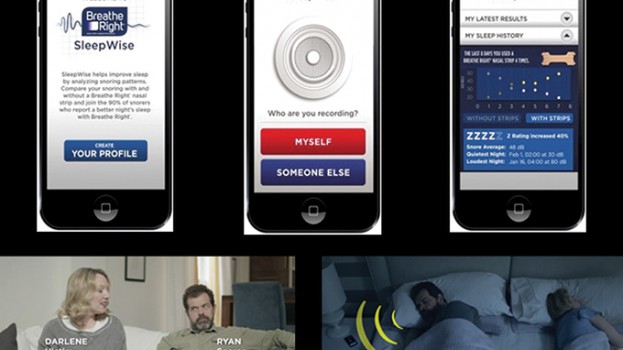 This article appears in the March/April issue of strategy.
SILVER: Matching Message to Medium
Agency | Grey
SITUATION ANALYSIS | Penetration and sales of Breathe Right Nasal Strips had plateaued. While the product had a loyal user base, its relevance was not appreciated by potential new users. A "test-and-learn" regional budget was targeted to drive 65% trial of Breathe Right strips among new and lapsed nasal congestion sufferers.
INSIGHT & STRATEGY | Research showed the biggest purchase barrier was "snorer denial," with 42% of snoring Canadians not admitting that they snore at all. The opportunity lay in providing proof that a Breathe Right strip could improve nasal airflow and give sleep-starved bedmates a good night's rest.
EXECUTION | The Breathe Right SleepWise app was created to provide tangible proof of snoring. Launched in April 2015 in Western Canada and supported by a $200,000 budget, the SleepWise app gave users (or their sleep-deprived partners) the ability to upload personal data and record the quality of their sleep – or the disruption of their snores.
The data became the message in executions calling out real-life snore deniers: people could have their partner's snores inserted into an ad that would play on their favourite radio station during the next morning's drive to work. The ad would even include the snorer's first name and street name, so there was no denying what they were hearing. The campaign also used banner ads on favourite websites and text messages to reach the snorer.
RESULTS | Retail dollar sales increased by 7% and volume sales by 6% in Western Canada versus the rest of Canada, increasing dollar share by 0.3 points and unit share by 0.2 points.
CAUSE & EFFECT | Traffic to Breatheright.ca increased between 123% and 1,088% in key Western Canadian markets versus the rest of Canada. Ninety percent of site visitors opted-in for free trial of the product.