The rooster reaches from bottom shelf to eye level
Caffeine pills sit low down in the drug and natural health aisle, but Wake-Ups' Patrick Marshall is aiming higher.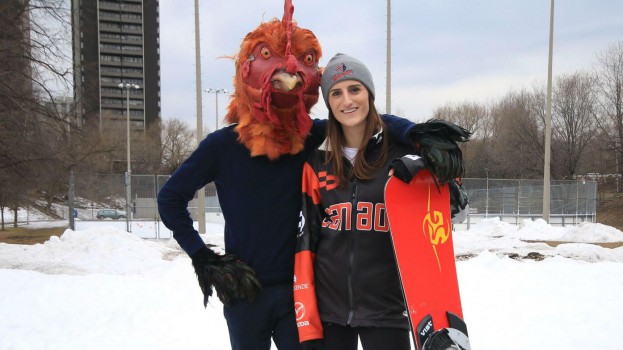 What does an Olympic snowboarding hopeful have in common with a bunch of hackers? Patrick Marshall is betting something big.
He's trying to outpace the energy drink market, but what he's got isn't new nutritional tech. It's something old: Wake-Ups, the caffeine pills that have been getting students through midterms since the 1950s.
Marshall, the president and general manager of Wake-Ups parent company, Adrem Brands, is hoping to move his brand off the pharmacy's bottom shelves with a carefully plotted product expansion.
He may have a comparatively small budget, but he's also got a carefully grown pool of brand advocates.
The current market for caffeine pills tends tends to be stressed out university students. (Unsurprisingly, Wake-Ups see double-digit sales bumps around exam times.) But with energy drinks flooding the student market, Adrem is getting Wake-Ups at the core of sponsored student events with 24-hour student hackathons.
But Marshall's sights are set beyond institutions of higher learning. In January, Adrem put its power behind Jennifer "JJ" Hawkrigg, a member of Canada's snowboard development team vying for a spot representing the country at the 2018 Pyeongchang Olympics.
"She actually called us and said she used [Wake-Ups] in her training regimen and on race day," Marshall says. She's since made television appearances thanks to Adrem's PR efforts, and footage of her races are popping up in Wake-Ups online channels.
Marshall says all that work has helped drive sales beyond the typical exam time bump, but it's only the beginning.
While he's not unveiling his grand scheme, Adrem is experimenting with new products that don't need to sit on those bottom pharmacy shelves ("they're all above-the-waist"). And both Hawkrigg and the students at hackathons are the perfect test groups.
"They're going to directly influence our decisions, the fine-tuning around the flavours."
Flavours? Despite the secrecy, it seems Marshall is aiming for the snack aisle, where that competition with energy drinks moves to point-of-purchase. But Wake-Ups will have a strong point of differentiation, Marshall says.
Hawkrigg has proven a good test subject for the yet to be announced new products. "JJ is a performance athlete, and wants products where she knows the exact outcome it will have on her body. But she also says she needs to snack and put something in her stomach."
And it looks like Marshall's looking to broaden the product's demographic. Who's the new target market? "Not students," says Marshall. "They're accountants, investment bankers, professionals who don't want to have another coffee at two o'clock in the afternoon. They're looking for the outcome of a caffeine hit without the baggage that comes with it."
Sugar, to be precise.
So the company's "mantra," as Marshall puts it, will be this: Deliver the caffeine hit, but skip the carbs and sugar.
But there are a few challenges before Wake-Ups can make its goal of getting new products on shelves before the end of the year. Beyond the cost of product R&D, moving shelves in the grocery store is no cheap affair. Prime shelf space comes with a listing fee and is often purchased by fee-taking agents that intervene between brand and retailer. So not only is Adrem looking at a fancier neighbourhood, it's set to compete against neighbours with deep pockets who dominate the landscape.
But with volume sales that could dwarf its mainstain little white pills, Marshall says the prospects are worth the financial risk.