Nespresso Academy comes to Canada
The coffee brand opens its immersive training space in Montreal - its first outside France.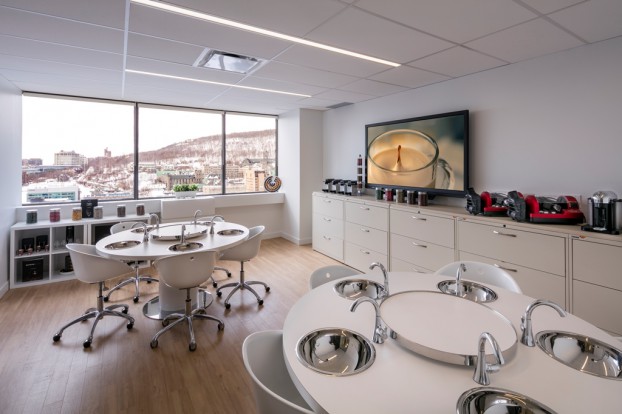 Nespresso has launched its first Nespresso Academy concept outside of France with a new location in Montreal.
The Nespresso Academy is a 2,000-square-foot space in the brand's home base in Canada (it also has staff in Toronto and Vancouver). The idea is to provide a space where the Nestlé brand can showcase the expertise and processes behind both its machines and coffee to its various partners, says Sylvie Charette, the brand's VP marketing in Canada.
Among its features are a shared tasting space and lab inspired by Nespresso's "Coffee Experts Lab" in Switzerland (pictured above) and a machine gallery similar to what's found in its retail locations.
No products are sold at the academy. The idea is to offer an immersive brand experience for "Nespresso Club" members (customers who are signed up for things like coffee delivery and recycling services), employees, agencies and trade partners. It will also be home to experiential training and events with chefs, journalists and influencers, particularly for new product launches.
Nespresso differentiates among single serve coffee brands by offering what Charette says is a one-to-one experience and its goal is to take the top position in the category. which also includes Keurig and Kraft's Tassimo.
Currently, there are no plans to open more Academy locations in Canada outside of Montreal.