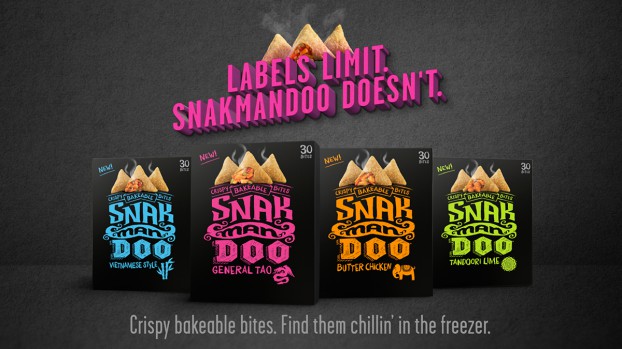 Bellisio Foods' new product hopes to capitalize on millennials' changing mealtime patterns and bring innovation to the frozen aisle.
The company – parent to brands such as Michelina's, Boston Market and Atkins' frozen portfolio – has debuted Snakmandoo, a portfolio of bakeable filled pastries with flavours, including Tandoori Lime, Butter Chicken, Vietnamese Style and General Tao.
The new brand is a Canadian-led initiative, says Karen Hsiung, director of marketing at Bellisio Foods, whose global headquarters are in Minneapolis.
In 2014, it began delving into data and insights related to changing eating habits and taste palates, with the Canadian team taking the lead on developing what has become Snakmandoo. The main "mega trends" driving this eventual product launch were twofold: mealtimes now being more fluid than in the past – with snacking gaining steam – and more consumers trending toward ethnic flavours, Hsiung says.
This is Bellisio's first foray into snacking and a product portfolio centred on millennials, she says. Its Michelina's brand holds the top position in the single-serve frozen entrée category and its entry-level price point does draw a younger crowd. But Snakmandoo is the CPG company's first innovation built around that younger target, she says. The goal is also to have Snakmandoo eventually roll out to other markets.
Snakmandoo (sold in packs of 30 pieces with sauces) began hitting shelves in the frozen aisle of major grocers around early March, with marketing support now rolling out.
The launch campaign is rooted in digital to reach its millennial target, including social media posts and pre-roll. On the in-store side, Snakmandoo will also be rolling out various retailer programs, focused particularly on sampling and couponing.
Bellisio is looking to position the brand as right for any time – meaning both with daypart and whether solo or social occasions, Hsiung says.
"The promise of the food is really flexibility at its core," she says. The frozen category itself is centred on convenience and the Snakmandoo products specifically are bakeable within 10 minutes.
Bellisio worked with Missisauga, Ont.-based Bridgemark on its branding and packaging for Snakmandoo, Toronto's Trevor//Peter on creative for the creative campaign and Gaggi Media on media.