Food for thought on Canadians' meal habits
A new Dalhousie study breaks down how we eat and with whom.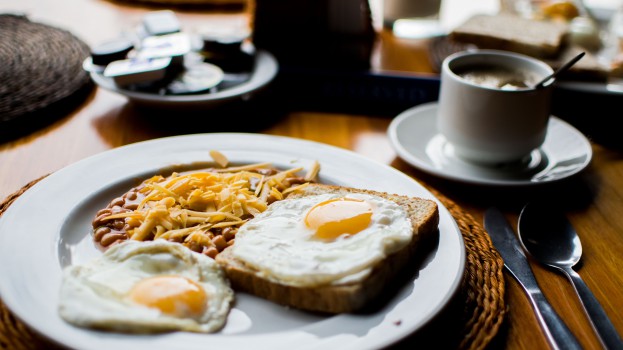 Look at any article about the job or housing markets and you'll quickly realize Canada has some generational and geographic divides. But what about when it comes to one of the most basic things we all have in common: the need to eat?
A recent study out of Dalhousie University – based on a survey of just over 1,000 consumers, completed in April –  breaks down some food habits of Canadians.
Here, we look at some of the findings out of the preliminary report about how we take our meals (or don't).
Morning commute, with a side of breakfast
Most Canadians (74%) say they eat breakfast and a high percentage (nearly 86%) report preparing and eating it at home. Baby boomers (those born between 1946 and 1964) are twice as likely to prepare breakfast at home than millennials (defined as those born between 1977 and 1995).
However, getting breakfast on-the-go is twice as popular among millennials than boomers. Ontarians specifically are more likely than other Canadians to grab their morning meal on-the-go.
Skipping and snacking
Single people are twice as likely to skip breakfast as those who are married or divorced, with B.C. residents nearly three times more likely than other Canadians to opt out of the meal. Those with lower incomes (under $40,000 annually) are also three times more likely to skip breakfast.
Women and single consumers are the groups more likely to skip lunch, along with consumers under age 21. Among single people, 42% think they'll be likely to eat lunch on-the-go or at a restaurant more often in the next year.
Perhaps unsurprisingly, then, women and single people are more likely to snack, at 46% and 36%, respectively. Among those with a high school education only (another group prone to skipping meals), 51% report snacking.
Lonely lunching?
About 67% of Canadians report that they eat breakfast alone but that jumps to 86% among millennials. Consumers in Quebec are least likely to eat alone, with British Columbians most likely.
Nearly half of Atlantic Canadians are eating lunch alone at their desk and consumers in Ontario and the Prairie provinces also eat lunch alone more than the average Canadian. However, among Quebecers, only 36% report eating alone.
Weekend chefs
Consumers without kids are three times as likely to eat dinner at a restaurant than those with children.

Among generation X (born between 1965 and 1976), 57% report cooking on the weekends but not during the week, with 46% of millennials and 38% of boomers saying the same.

With generation Z (born after 1996), 51% report feeling like they don't have time to look. In British Columbia, 52% say the same – that's nearly four times higher than consumers in Quebec.