Explorers' Edge brings its attractions to mobile
The tourism organization launches a suite of tours to show connected travellers the full scope of what to do in Central Ontario.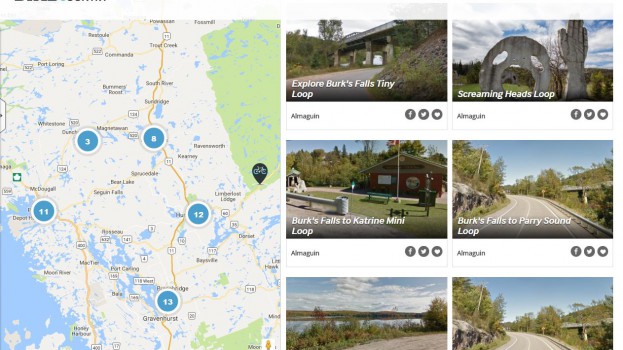 Explorers' Edge is a regional tourism organization covering Algonquin Park, Almaguin Highlands, Loring-Restoule, Muskoka and Parry Sound.

It's a wide area to cover, which is why three new tours created for mobile devices aim to show visitors the full scope of what they can do there – and give local businesses a tool to convince travellers to extend their visit.

Each tour features GPS-enabled maps, details about points of interests, blog content and the ability to sort and browse activities by a range of different criteria. For art lovers, an "outdoor gallery" of murals inspired by the Group of Seven's works can be sorted by artist, complete with video guidance. Cyclists can search for routes based on the kind of ride they'd like to take. Craft beer fans, meanwhile, can search by particular breweries, or find pubs, restaurants and lodging that serves them.

The tours also highlight things particularly important or unique to the region, like training trails for cycling that reflect annual Ironman triathlons in Huntsville.

Kate Monk, director of communications at Explorers' Edge, says the organization has a relatively small budget compared to others in the province, which is why it began getting involved heavily with content marketing roughly four years ago. To fulfill its mandate to develop tourism products within its budget, it decided to take its experience and success in content marketing and adapt it into a digital service.

Part of the motivation behind creating mobile tours was the fact that many people don't want to travel without their mobile device, even when visiting areas like Algonquin Park or the Muskokas, which encourage people to disconnect and embrace the great outdoors. Even if their mobile device isn't always on-hand, it is still frequently a tool visitors use to plan their trip or look for activities to do, with 80% of Explorers' Edge's web traffic coming from mobile.

"We decided that we would take a content marketing approach we knew to be competitive and a draw to our region, and put it into a digital format," Monk says. "We figured out the audiences we wanted to go for, and adapted products – for cycling, craft beer and art – to the new realities of the travellers that insist on having their mobile devices nearby when they travel and plan their trips on mobile."

But the other consideration, as is with most of Explorers' Edge's projects, was the 1,900 tourism operators in the region, like bed and breakfasts, restaurants, galleries and other independently owned businesses. Besides including these businesses as potential stops on the tours, the goal is to show just how many things there are to do in the area and encourage visitors to stay in the region for longer, beyond a trip for the day or the weekend.

"If you own a bed and breakfast and you're on the phone with someone, you can ask if they are interested in cycling and pass on the mobile tour and show them how many days they can fill," Monk says. "Or, if they're already at the establishment, the owner can pass something onto their guests that has more information and is a better experience than a PDF of a map."

Each tour was also made with the same development framework so more tours can be easily created and added to the suite. Other possible tours Explorers' Edge is considering for the future include ones that will target history and museum buffs, family vacationers and paddlers.