Tech in Action: You know nothing
A chatbot also serves as a smart encyclopedia for keeping track of characters from Game of Thrones.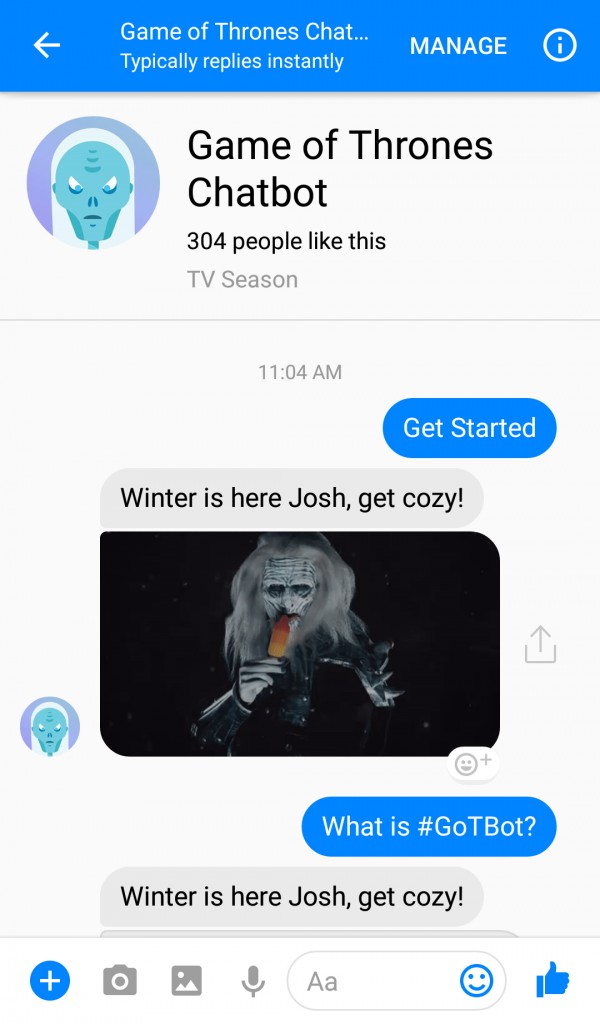 As it prepares to enter its seventh season, HBO's Game of Thrones has a gigantic list of characters, and it can be hard to keep up with who they are, how they are related to each other and whether they are even alive. But a new chatbot aims to help keep viewers up to speed.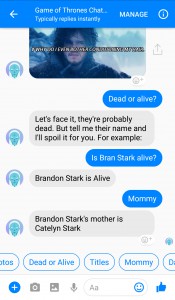 Created by U.K. agency Catch Digital, "G0TB0T" lets fans catch up on what they may have forgotten since the show's last season by asking questions about its various characters, like about whether they've died yet, who their family members are and what they've actually done during the series. It also has an AI engine behind it, so it's learning more questions and answers the more fans use it.
The bot also avoids using the formal manner of speaking one would expect from one of the show's characters, opting instead to use the more casual tone of one of the show's fans – allowing it to slip in the occasional emoji, joke or meme.
Most menu-based chatbots tend to feel more like clicking links than having a conversation, but G0TB0T uses them more to gives users an example of the kinds of questions they might want to ask, switching out one character's name or the category of information they want for another.
But what's also interesting is how the bot handles questions it doesn't know how to answer.
Most other bots opt to send its users back to a menu of options or give a simple "I didn't understand that" message when it's given a question it can't deal with, and G0TB0T certainly does that from time to time. But it will also offer content that will at least humour fans of the show, which is a slightly more satisfying consolation for when it doesn't work as advertised: