Bluenotes ditches retouching in its fall campaign
The retailer is helping young people focus on what's "real" as it moves to be more of an aspirational brand.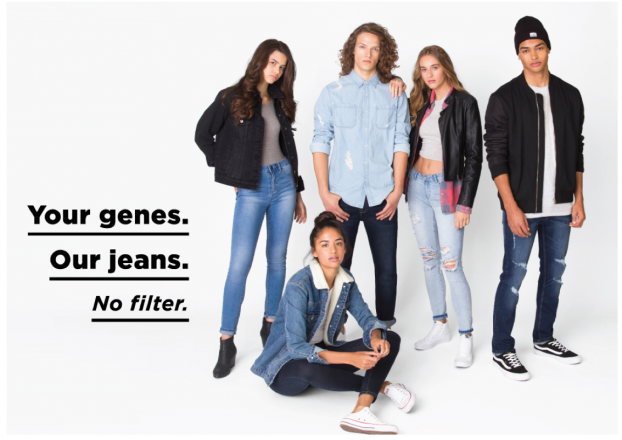 Bluenotes is taking a stand against the images of perfection young people are pressured to keep up on social media.
The brand's back-to-school campaign, developed in-house, appears under the tagline "Your genes. Our jeans. No filter." and does not use any retouching in the photographs of its models.
"In this day and age, we're all highly exposed, and our [16- to 24-year old] target lives in a world full of peer pressure and perfection," says Asia Lewicki, director of marketing at Bluenotes. "We wanted to stand behind them and empower them to be real and true to themselves. It's all real, from the models themselves to how the jeans fit them. Hopefully us embracing what is real and authentic will take some of the pressure off for our customers, even a little bit."
Creative for the campaign will be running in-store, out-of-home and on social, and will also be receiving a PR push. Lewicki says that is "above and beyond" what Bluenotes has typically done for its fall back-to-school campaigns, as it wants to get extra exposure behind the positive message.
While the focus on denim has typically been at the core of the Bluenotes brand and its marketing, Lewicki says the retailer has been aiming to be more of an aspirational brand and compete more with fast-fashion retailers like H&M and Forever 21. Having a younger target means Bluenotes has always been very price-conscious and is already able to compete on that front. It has been bringing in more on-trend pieces to complement its existing credentials in denim to compete on the style side as well.
But elevating the brand has also meant telling more of a personal story that will build trust and loyalty with teens and young adults.
"We feel like our campaign is more personal than what we've seen in the Canadian marketplace," Lewicki says. "Right now it's very competitive, but we don't really see a lot of other retailers really build a personal connection with their customer. We are a Canadian retailer that specializes in denim and believes we have the best denim in the market, but we realize who our target is. So we want to not only provide them with great merchandise that's priced right, but also share a story that's united with them and what they think is important."