Check it out: A robot walks into a comedy bar…
SiriusXM has an AI-powered bot generating instant jokes to promote this year's Top Comic competition.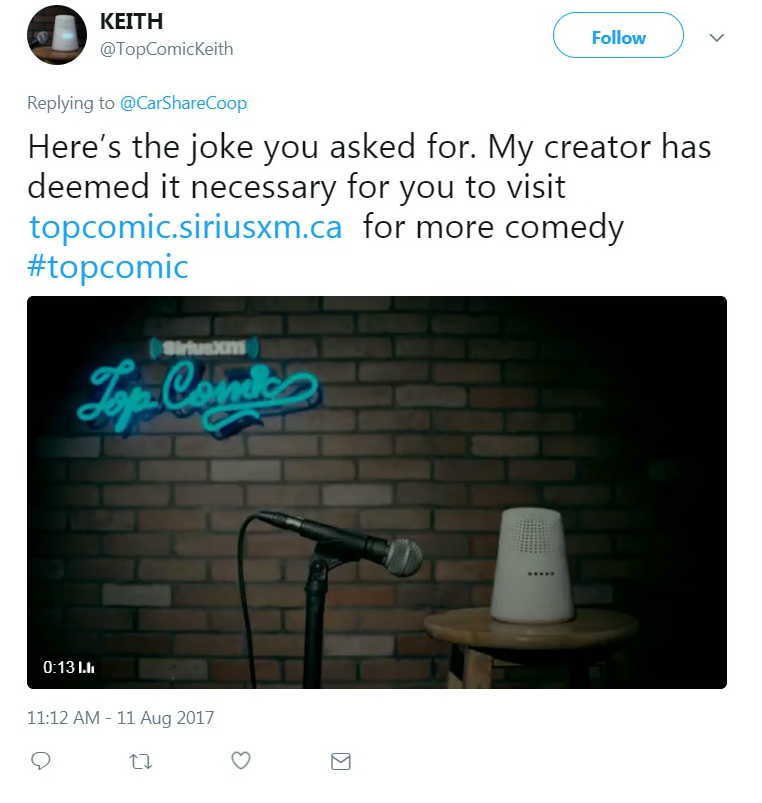 Sirius XM's Top Comic competition is operating under the slogan "Stand-up comedy is often imitated, sometimes duplicated, and never automated" this year. A new joke-telling AI proves the last part is certainly true.
Taxi Canada developed an Alexa-like appliance named Keith as the face of a social campaign on Twitter. Not only does Keith tell a few jokes about being a machine ("So good to be out of the manufacturing plant. The sun, am I right?"), but it is currently churning out automated, instant jokes based on topics in tweets user send to @TopComicKeith.
The jokes vary from the corny to the absurd, which isn't surprising given its supposedly a data-fed robot developing the punchlines. When asked for material on car sharing, for example, Keith came up with "I think it was Christmas when I realized my brother was the favourite. He got a mini motorized truck. I got a second hand car sharing and a smack on the head."
Here's a joke about HOCKEY. I've been told to tell you to visit https://t.co/9CFva3PFBg to vote for even more comedy. #topcomic pic.twitter.com/k6Avr8ZCbQ

— KEITH (@TopComicKeith) August 11, 2017
Some of the other jokes feature standard, hacky joke formulas with a highly technical definition of the topic awkwardly worked in.
An instant joke about AIRPLANES. My creator has deemed it necessary for you to visit https://t.co/9CFva3PFBg for more comedy #topcomic pic.twitter.com/xGWheHa3iu

— KEITH (@TopComicKeith) August 11, 2017
It's both a nice send-up of the frustration people feel when technology fails to connect and a proof-point of Top Comic's contention that the best comedy is anything but formulaic.
At press time, Keith had tweeted nearly 400 jokes since going live in late July.