Accenture brings hands-on innovation hub to Toronto
The digital consultancy's Liquid Studio aims to give clients the ability to rapidly build and prototype their transformative ideas.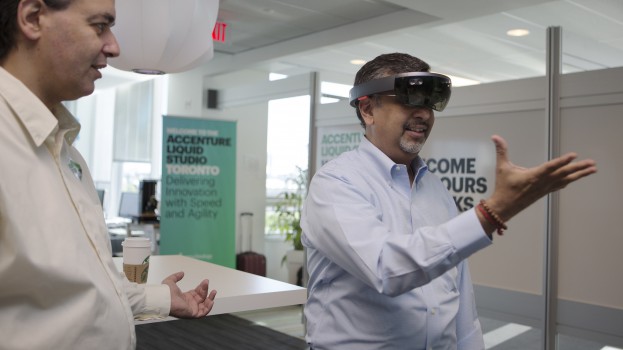 Accenture is bringing its Liquid Studio offering to Toronto to help its clients get their technological ideas off the ground quicker.

In addition to providing a space where Accenture can go hands-on with some of the ideas its consulting business develops, Liquid Studio aims to differentiate itself from other innovation labs by focusing on rapid development and new ways of thinking (compared to its own Accenture Labs, which is more of a typical R&D and prototyping space).

"The main purpose of Liquid Studio is to help organizations with a new way of approaching IT," says Steve Convey, managing director of Accenture Technology Canada. "A lot of companies have legacy systems, and the typical life cycle to get from idea to industrialized solution is measured in months and years. This is designed to help organizations develop a process to get them from idea to solution in a matter of weeks."

The company takes three main tactics to drive such speed. Firstly, its "sprint masters" oversee an iterative design-build-and-test approach with the client in the room, so things that don't work can be abandoned to focus on things that do work and making them better each time the cycle is repeated.

Liquid Studio also uses devops-style automation and monitoring tools to ensure the process is done collaboratively and with clear communication to ensure it's both reliable and fast. Finally, it uses principles of design thinking, which Convey admits isn't a new topic, but says has "only recently been brought to the fore in terms of how companies build out technology solutions."

In addition to pulling from Accenture's other assets both in Canada and at Liquid Studio locations globally, the Toronto's location will draw on the expertise of a number of start-ups and organizations Accenture has relationships with, such as Google, Microsoft and AI research hub The Vector Institute (in which Accenture is an investor).

The first Liquid Studio launched in Silicon Valley early last year and roughly a dozen more have since opened in cities including Houston, Paris, Milan, London, Kronberg, Singapore and Sydney. Convey says the company wants Liquid Studio in most of its major geographies, launching when a market reaches a "critical mass" of client interest.

"If you think about the major industries in Canada, the major client presence is in Toronto," he says. Liquid Studio is one of a number of new initiatives Accenture is planning for the Canadian market, which will come along with increased investment in training and hiring.

Convey says that while Liquid Studio will offer services similar to those in other cities, it will have some specialties and areas of focus, based on the needs of the local market.

For Toronto, Convey pegs AI and automation as major areas of focus, as well as AR, VR and blockchain. From an industry perspective, he says the most interest so far has come from financial service companies and retailers, something that is also likely to shape the kind of work Liquid Studio does in Toronto.