What's the audiobook opportunity?
Audible makes its Canadian debut, while Kobo is investing in the category to skew younger.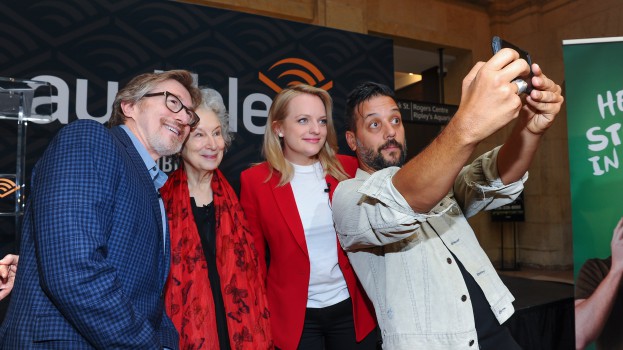 By Mark Burgess and Harmeet Singh
Pictured: Audible CEO Don Katz with Margaret Atwood, Elisabeth Moss and George Stroumboulopoulos at the Canadian launch Sept. 13.
Audible has launched a dedicated Canadian service, promising investment in the publishing sector, jobs for actors and a new advertising push over the coming months.
The Amazon-owned audiobook provider announced its move north with a big PR splash on Wednesday. CEO Don Katz took to a stage at Union Station in Toronto joined by author Margaret Atwood and actor Elisabeth Moss, star of the TV adaption of Atwood's The Handmaid's Tale.
In addition to a Canadian website pushing content selected for a Canadian audience, Audible has a digital ad campaign to promote the service, along with ads that will run on CBC podcasts.
The digital ads will be targeting users of the service based on the genre of content they consume, EVP of international operations Chris Cooper says. "We will break those segments down and create campaigns to target them specifically."
Veritas is handling PR for the launch and Audible is working with Hearts & Science on media. It doesn't have a Canadian creative agency at this point, but Cooper says it plans to use one for a bigger TV push coming in the new year.
"We would be open to working with different agencies, and we'll assess that over time," he says, indicating the company would have "a strong budget" for advertising next year.
"This is by far our largest launch. We're making some significant investments."
Those include $12 million to record Canadian stories over the next three years, a partnership with Ryerson University around training for audio production and voice acting, and big talk about thousands of voice roles coming for local actors.
"Audible is going to be employing so many actors that you're going to have trouble finding somebody to serve your cappuccino," Atwood told the audience.
The company is marketing its Canadian arm by pushing CanLit to the top of the site and offering a limited-time free download of actor Claire Danes' recording of The Handmaid's Tale. The site also features a clip from broadcaster George Stroumboulopoulos praising the library's "killer content" that's "specially curated by and for Canadians."
Cooper says the brand will be looking to show that Audible is good for more than commuting and exercising by highlighting other occasions to use the service, such as parents with newborns whose hands tend to be constantly occupied, or anyone looking to give the eyes a break at home in the evening.
"We try to make an emotional connection as well," he says.
While Audible will be expanding its own advertising, there are no plans to incorporate ads into the service.
"Obviously podcasts and things of that nature typically incorporate advertising. It's not something that we feel like meets the needs of our users. There's no plans for that at this point," he says.
Audible's Canadian-specific launch comes as e-reading company Rakuten Kobo has also debuted audiobooks, available through a la carte and subscription options.
Audiobooks are a growing category and are already proving enticing to Kobo's customer base, says Tracy Nesdoly, VP of communications. The Audio Publisher's Association in the U.S., for example, has reported that audiobook sales in 2016 totaled $2.1 billion, up 18.2% over 2015.
A survey of Kobo customers revealed that 46% listen to audiobooks and a small group (18%) are avid listeners, turning into an average of three audiobooks monthly (Katz says the average Audible user listens to 17 books per year).
However, Kobo also says audiobooks aren't taking the place of ebooks, with those who report listening also reporting reading the same number of ebooks as those who don't.
For Kobo, audiobooks add to its opportunities for gaining customers and capitalizing on opportunities where customers can't or might not be reading (like while driving, exercising or doing housework).
It also allows the brand to skew younger from its current base. Audiobooks tend to be popular among the 25-to-54 demographic, while 77% of Kobo's most active readers are 45 and older, with the largest group between 55 and 64, Nesdoly says. Audiobooks also tend to split more evenly between males and females, while 70% of Kobo customers are women, she notes.
Kobo is using mainly digital and social marketing and retargeting to promote audiobooks, given that it's digital content, along with a PR push, Nesdoly says. Specifically, its marketing will focus on the lifestyle of audiobooks and how they might fit into people's activities. The brand works with Anomaly on creative and handles communications internally.