Why IKEA's new AR app is different
The furniture-focused app is a glance into the possibilities offered by Apple's ARKit.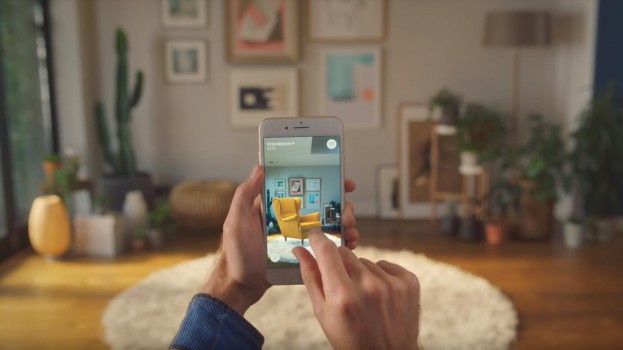 As part of Apple's iOS 11 update earlier this week, millions of devices are now able to run apps created with ARKit, a development platform that brings improved augmented reality capabilities to anyone with an iPhone 6S or newer, without the need for additional hardware.
IKEA is one of the first brands to take advantage of the capabilities and scale ARKit offers with IKEA Place, an app that lets users get a preview of how the retailer's products fit in their home.
The app first asks you to scan the room, giving it an accurate gauge on the size of the space. Users can then pick something out from a catalogue of 2,000 pieces of furniture and storage solutions and see exactly how it looks as part of the room's decor and how it might fit within it. It also measures the lighting in the room to estimate how shading, shadows and colour might look in the unique context each room (and placement within it) provides. Users can then take photos of their placement, either to refer to later or send to others.
IKEA previously released an AR app in 2014, though it required scanning the retailer's physical catalogue to work. That app was also more of aesthetic tool to see how a piece would look in a room, and wasn't a completely accurate way to gauge its size or if it would fit in a given space. The new app, on the other hand, claims to have 98% accuracy, and using Place to figure out the logistical side of buying new furniture is a major part of a video the company released to promote the app.
It might seem like an obvious application, and one that's been done before, but IKEA Place should give developers a lot to be excited about. Besides greater accuracy and better-looking 3D models of the furniture, IKEA Place is also a good demonstration of how ARKit addresses some of the minor annoyances users have had with less sophisticated AR apps in the past. The latency most apps have experienced – taking time to adjust to movement of the phone or things within the room – is nearly gone. It also eliminates much of what takes users out of the "realism" of the experience, like models floating in the air or resting on objects they wouldn't be able to fit on.
IKEA Place is currently only available on devices with the iOS 11 update, but it could be making its way to Android-powered phones once Google's own next-generation development platform ARCore gets its public launch in the near future. Though it currently doesn't exist, there is also the possibility of adding e-commerce element by allowing users to buy items directly from the app.
IKEA also seems to be following a trend with retailers in the AR space. In addition to a number of non-branded apps that can be tools for interior designers, Overstock.com launched a similar planning tool made with ARKit. In the summer, Wayfair launched its own app as one of the first brand partners to build an app using Google's ARCore.