Metro to buy Jean Coutu for $4.5 billion
The grocer formally reveals its plan to take over the longstanding Quebec drugstore chain.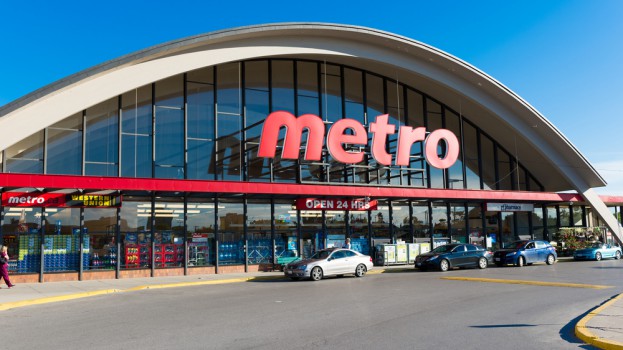 Metro officially announced Monday its plan to acquire Quebec drugstore chain Jean Coutu Group for $4.5 billion.
Along with Jean Coutu's brand, drugstores and distribution centre, Metro says it's gaining "increased sales and reach, operational efficiencies and growth potential." Metro's existing pharmacy distribution and franchising activities will be combined with Jean Coutu's, operating as a standalone division led by current Jean Coutu president and CEO Francois J. Coutu.
Metro estimates the combined company – which will have a network of 1,307 stores – to generate roughly $16 billion in revenue. Metro currently has 258 drugstore locations, with Jean Coutu bringing 419 to the table. Metro's grocery locations, meanwhile, total 630 across Quebec, (where is has 367), Ontario and New Brunswick.
The acquisition makes sense for Metro, which has been on the lookout for a major acquisition since losing out to Sobeys when that company bought Safeway in 2013, says business strategist Tony Chapman.
"I don't think they were necessarily looking at the drug trade until they saw how successful Loblaw has been with their acquisition of Shoppers," he says."Loblaw was lousy at healthcare and Shoppers was lousy at food."
But now, Shoppers has evolved to be a wellness chain, offering up fresh and other grocery options alongside its traditional wares, including prescription and over-the-counter drugs. That evolution likely makes sense for Metro as well, given that the population is ageing and having a "better for you" convenience location is useful for those consumers no longer doing a big grocery shop, he says.
For their part, CPG brands remain under pressure as their in-store footprints shrink to give way to grocers' private labels, fresh options and home meal replacements, Chapman notes (in August, Metro itself acquired meal kit company MissFresh). But brands marketed as "better for you" might be able to gain more traction in Jean Coutu locations, where they didn't before, he says.