Samsung explores the love spectrum
This year's "Look at Me" campaign puts the spotlight on the power of assistive technology.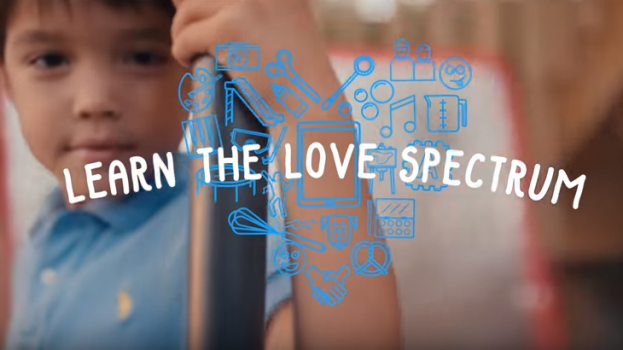 When Samsung Canada launched its Look at Me project three years ago, the objective was to learn about the autism community and spread the word about its tablet app designed to help children on the autism spectrum. But over the last two years, the company's focus has shifted to raising awareness of the role technology plays in the lives of families living with autism.

This year's campaign, "Learn the Love Spectrum," celebrates the unique ways children on the spectrum have of showing their love. A video spot by Cheil Canada suggests that their expressions of love aren't limited to "hugs and kisses, there's a whole spectrum." For Niam, it's through artistic expression; for Kai, through dancing and playing; for Riley, through baking. Each child has his or her own way, and technology is there to help them express themselves and communicate it with loved ones.

"The evolution of the campaign has gone from a very clear focus on the launch of the app . . . to really focusing on what we've experienced with the families living with autism," says Mark Childs, chief brand officer at Samsung Canada. "The work that we've launched this year is a culmination of that learning and that experience that fully embraces technology as a supportive tool for these children."

The Samsung brand has made a strategic choice to support children in education—particularly STEM education—and to help children reach their full potential, Childs says. In this case, that means helping children grow with technology. He says the company's broader goal is to bring the Samsung brand to life in meaningful ways.

Samsung Canada is working in partnership with Autism Speaks Canada and Silken Laumann, a former Canadian Olympian whose 21-year-old daughter is on the spectrum. Laumann, now a project ambassador, worked with Samsung on the launch of its "#BeFearless" platform earlier this year.

As part of 2017 campaign, Samsung and Autism Speaks Canada will be donating 500 Samsung tablets pre-loaded with the Look at Me app to families and organizations living and working with autism. Come 2018, it will also be sharing the results of a research study, done in conjunction with Holland Bloorview Kids Rehabilitation Hospital, aimed at better understanding the long-term role of technology in this space.