Tech In Action: From virtual to real glasses
A simple AR tool for an eyewear retailer helps find fashion-forward frames faster.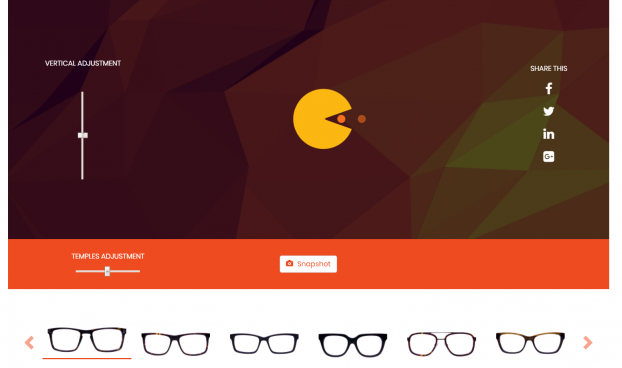 Eyeglasses are equal parts function and style, and as Hakim Optical's marketing VP John Worden puts it, "consumers seek social approval before purchasing glasses, especially when it comes to fashion forward frames."
To save shoppers some time in getting that social approval, the eyewear retailer has launched a simple AR tool that lets people impose a 3D rendering on to their face in real time through phone and desktop cameras.
The tool will be familiar to anyone who has played with Snapchat lenses before. Available as apps for iOS and Android (and through a web interface, seen above), the Virtual Try-On tool orients a selected pair of virtual glasses to a users' face. After allowing for some basic scaling, it tracks the user's head turns to give some sense of what a pair of selected glasses looks like from different angles.
This presentation can be captured with the application and turned into a socially sharable image. Hakim doesn't currently offer online ordering for glasses, so users will have to go in-store to purchase frame they like, but images generated by the app do include a coupon code.
Using AR to try-before-you-buy will also be familiar to anyone who has tried one of the similar tools launched by cosmetic brands, from L'Oreal's "Makeup Genius" app to Estee Lauder's lipstick try-on tool that was built directly into its online shopping platform.
Virtual Try-On was developed by Toronto's VusionVR and implemented in partnership with Idig Marketing.