Best Buy draws on the happiness of giving tech
A new holiday spot suggests gifts from the retailer can transcend age groups.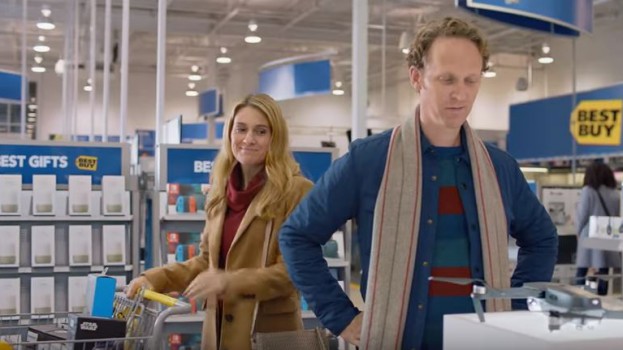 In its latest holiday campaign, Best Buy is positioning itself as the go-to place for the tech enthusiasts on your shopping list, no matter their age.
Created by Union, the campaign's main spot shows a dad who has set his sights on a drone while shopping at Best Buy. He leaves having clearly developed an interest in the gadget. On Christmas morning, he mistakenly thinks his wife has purchased it for him, but is happy to learn he'll be sharing the gift with his son, who is just as thrilled to receive it. The commercial intends to show that people's love for tech gifts transcends age groups.
According to the retailer's own research, 55% of Canadian consumers say tech gifts are the most exciting to give during the holidays, while 66% say they are the most exciting gifts to receive.
"We know that tech gifts are going to be a winning gift at the holidays, so we wanted to say to consumers, a gift from Best Buy is going to be the perfect gift," says James Pelletier, Best Buy's director of marketing. For adults and tech fans of all ages, he says, the latest tech gadgets become "toys for big kids."
"When you think of the holidays, everyone wants to get that fun toy. There's something about giving and receiving that fun gift, that cool gift – not the functional gift or the sweater or the tie."
The spot launched on Nov. 13 and includes TV, cinema, pre-roll and social ads. Best Buy's internal digital team worked with Media Experts on media.
In its previous two holiday campaigns, the retailer chose not to include any products in its commercials, even though the retailer offers gifts in one of the most sought-after categories. Last year was the first time it put emphasis on the gift-giving side of the equation with an ad that suggested giving the right gift can make anyone feel like a kid on Christmas morning.
While this year's campaign ad includes the drone, it plays a secondary role and could have been replaced by any number of products, Pelletier says. "That's what TV does in our media mix. It's about telling a great story, creating that emotional connection with the brand… We don't really use television to drive individual products."
Best Buy's target demographic is "tech enthusiasts," a group that includes six different consumer segments, but the brand nevertheless tries to reach all Canadians through mass marketing. Pelletier says Best Buy customers are emotionally connected to their tech and are willing to pay more for the latest gadgets, as well as good customer service.