Nissan goes sci-fi for safety tech
The automaker brings Star Wars characters and augmented reality to dealerships to show off its safety features.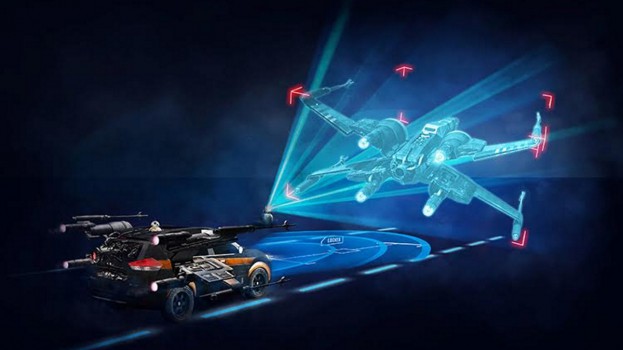 Ahead of the release of the newest Star Wars film, Nissan has launched "See The Unseen," an augmented reality experience that gets characters from the sci-fi franchise to explain exactly how its safety technology works as they drive.

Using a special device at a dealership, potential drivers can see how safety features like assisted driving, automatic emergency braking, pedestrian detection, blind spot warning and rear view cameras work on the Rogue and Maxima SUVs and Titan truck. It does this by using a character or element of the Star Wars universe (from droids to stormtroopers to X-Wing fighters) to explain and visualize each feature as they're selected.

Besides once again capitalizing on a partnership with the Star Wars franchise, Nissan is using the AR execution as another way to communicate its message around safety, which has been a key pillar for the brand. As the name "See The Unseen" implies, it does this by finding a new way to visualize safety features that typically work invisibly in an exciting way.

"While the competition is focused on Santa Claus and red bows this holiday season, we are filling our dealerships with stormtroopers, virtual reality and the new augmented reality experience, making the Nissan shopping experience much more fun, engaging and educational," said Jeremy Tucker, VP of marketing for Nissan North America, in a press release.

Earlier this year, Nissan also used tech to combine its vehicles with the Star Wars world when it created a virtual reality experience that let viewers pilot a Nissan Rogue through a battle between rebel and imperial forces on a planet inspired by Rogue One: A Star Wars Story.