Snapchat opens up its AR capabilities
Lens Studio allows brands and agencies to create 3D lenses and characters all on their own.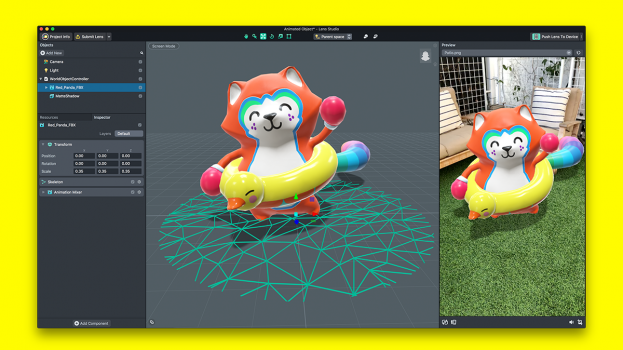 Snap has launched a new application that gives users and advertisers alike the ability to create their own 3D, augmented reality lenses – without going through the company's own creative department.

Lens Studio is a free application that will allow artists, designers, agencies and brands create their own lenses for the social media platform. Users simply import 2D designs or 3D models into the Studio, define its movement and "triggers" that set off interactive elements and publish. After it's published, the designer will be given a Snap code that users can scan to unlock the lens for 24 hours.

For the time being, Lens Studios can only create "world lenses" (which use a device's rear-facing camera, like the "Dancing Hotdog" that became extremely popular earlier this year). For the "selfie" lenses that use a device's front-facing camera and facial recognition, Snapchat has launched a Lens Studio Partner program.

Seven agencies – Avatar Labs, Fisherman Labs, Haus, Media Monks, North Kingdom, Trigger Global and Vidmob – have been trained on the development of Snapchat lenses and serve as an alternative to working directly with Snapchat's internal creative team. The company said these partners could create lenses within a matter of days, whereas working directly with Snapchat could take weeks depending on demand and volume.

Using the snap code is currently the only way to distribute lenses created in Studio, as paid buys are currently only available directly through Snap or one of its partners – be it the mass "national lenses," more targeted "audience lenses" that launched earlier this year or the recently-launched format that allows users to swipe up on a standard video ad to unlock a lens.

However, there are a few workarounds that exist. The snap code could be included on any piece of creative, including content that is being promoted through other means. Also, as Marketing Land points out, advertisers could use a "deep link" to get users to open the Snapchat app and unlock the lens – and that link could be attached to any digital ad, including Snapchat's own vertical video ad format.

Snapchat says a third of its audience uses its lenses on a daily basis, averaging three minutes per day. As measured by Nielsen, campaigns using lenses see a 19-point lift in ad awareness, a 15% lift in purchase intent and a 9% sales lift.

Earlier this year, Facebook announced it would be launching own self-serve AR creation platform for filters on its own platforms.