Interac laughs away the awkwardness of paybacks
Comedy is key to the brand's campaign around two new e-Transfer payment options.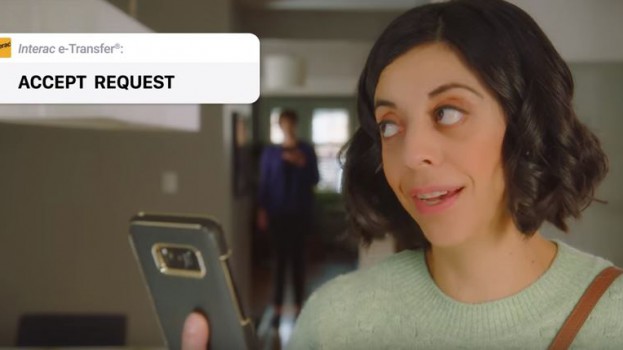 Most of us have experienced the awkwardness of needing to badger a friend or family member into paying us back, be it through traditional payment methods or new ones.

In the fall, Interac launched new e-Transfer features called Request Money and Autodeposit, designed to make these kinds of situations less sticky, and it's using the awkwardness-breaking force of comedy in a new push to promote them.

The financial services company has launched "Awkward Conversations," a campaign in partnership with Second City Works, an arm of Second City comedy club that "leverages improv and comedy to solve client challenges," with two digital spots.

The first shows a woman struggling to answer security questions set by her husband, with the idea that Interac's Autodeposit is the solution to her problem. The second presents Request Money as the saviour, as a friend who never chips in on group expenses is pulling her usual stunt.

"Sketch comedy is a great way to make light of everyday situations that our customers can connect with, while clearly demonstrating the value of the product," says Michelle Tampoya, director of product marketing at Interac.  "We wanted to position Interac e-Transfer as a way to help solve the awkwardness when asking for money."

Tampoya says 50% more Canadians year-over-year are using Interac e-Transfer to pay each other back (rather than traditional cash or cheque) and over 75% of them deposit their money on a mobile device. "Awkward Conversations" was designed to speak to that existing consumer base about the new features available to them.

"Our research shows users who are comfortable with the service and use it often are more likely to try the new features, and our hope is that the humourous approach gives them that nudge," Tampoya says.

Second City Works developed the content and filmed the spots, which include a French adaption of "Security Questions" for the Quebec market using Francophone actors. Hill+Knowlton led on PR and digital media strategy.

The campaign will run on social until mid-March.