Tech in Action: NatWest hires a robot teller
The bank enlists a human-looking AI to help clients get answers to their basic financial questions.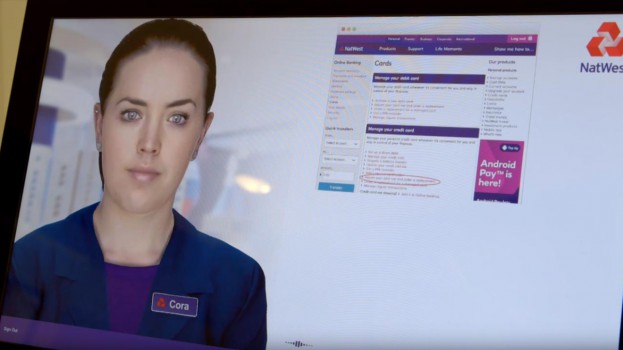 If you're tired of waiting in line at the bank to get an answer to a simple question, U.K.'s NatWest might have a solution: robots.

The bank's new animated, huminoid interface – named Cora and dressed in a NatWest teller uniform – is currently living inside terminals as part of a pilot program at NatWest branches, but is also accessible by tablet or mobile device.

Cora's main purpose to is to answer the most basic questions, such as queries about lost cards, how to make payments and how to apply for products and services, such as a mortgage. Clients can use natural, two-way conversations to get the information they need, and NatWest claims Cora – which uses AI-powered natural language recognition – can answer 200 unique queries.

The bank began testing Cora last year, and it has had roughly 100,000 conversations a month.

The idea is that utilizing an AI interface to answer more basic questions will cut wait times in branches and free up human tellers for more complicated questions and personalized advice, something other banks have also been looking to do. Several Canadian financial institutions have enlisted the use of chatbots on platforms like Facebook Messenger to help direct clients to information and resources, while ATB Financial in Alberta has enlisted the services of robot assistant Pepper to do the same in-branch.

NatWest says the goal behind Cora is to compliment human staff, and is not a way to find further jobs to cut at the bank. NatWest's parent company RBS announced in December it would be closing a quarter of its bank branches, which came at the end of a year that saw thousands of job cuts as part of ongoing cost-cutting measures.