2018 CRC: Brands join SickKids' fight
This year's top advertiser on how it's collaborating with corporate partners.

Curious who else is on top of the Creative Report Card? Be sure to check out the full rankings, and check back in the days ahead to see how Canada's agencies, brands, creatives and strategists earned their top spots.
This article appears in the March 2018 issue of strategy.
Many battles are fought at SickKids. Homesickness is one of them.
Removed from family and friends, child patients spend days, weeks and even months in a hospital bed with only a handful of comforts from home. Making their stay a little less lonely, Samsung recently renovated the atrium on the ninth floor of SickKids to create a space that gives wistful kids an escape from their hospital routine. Here, they're able to play with games and gadgets from the electronics brand, which also lined cubbies and shelves with toys and books.
"It will bring patients closer to the things they love, without leaving the hospital," says a voiceover in a video revealing the Samsung Space, before it debuted in March 2017.
To support its opening, the brand (which has been a SickKids donor for many years) also created a touching spot that shows Elina, a SickKids patient who is battling cancer, sitting in her hospital bed. She is given a Samsung VR headset, loaded with content that allows her to visit her local dog park, a beach near her home and her school, where classmates are seen shaving their heads in support.
This is just one example of how SickKids has integrated the "VS" platform into its corporate partnerships – allowing brand partners to choose a "battle" (such as "Missing Home" for Samsung) they can own, says Kate Torrance, the foundation's director of integrated brand marketing. "[It] really ladders up to what you do and what your organization cares about."
From a bold first spot and a stream of commercials that followed, to its manifestation in fundraising and recruiting efforts, the "VS" platform has evolved to become an ever-present force for the SickKids brand. It has permeated the hallways of the foundation and its hospital, and contributed to SickKids taking the top brand spot on this year's Creative Report Card.
When the foundation launched the "SickKids VS Limits" campaign in October and announced its goal to raise $1.3 billion over five years, it also identified brand partners and organizations that had already donated or made pledges towards this goal. The foundation helped each choose a "VS" battle to stand behind and created banners with personalized taglines. LCBO, for example, contributed to the overall goal, so its banner reads "LCBO VS Limits." Others, like Travel Brands and RedTag.ca gave to specific areas like cardiology, so their banner reads "VS BrokenHearts." Each were hung from rafters at the Mattamy Athletic Centre during the campaign and later given to the partners.
"That's where there is real longevity potential with this platform, because it could be customized by donor, by battle," says Torrance. "One of the things that we've been most proud… is the way donors have adopted [the platform] and run with it on their own."
Meanwhile, others have used their own platforms to get the public to pitch in. For example, food ordering service Ritual joined the "SickKids VS Limits" campaign by giving users the option to donate $2, $5 or $10 to SickKids through its app.
And the foundation itself has been encouraging donations through gifting programs. Released in a lead-up to Mother's and Father's Day, the "MomStrong" and "DadStrong" spots asked Canadians to pay tribute to their parents by gifting a SickKids mom or dad with items like a glider chair, a basket of toys or video games through its Get Better Gifts program. The Mother's Day effort saw a 273% increase in fundraising over the previous year.
The spots focused on parents instead of the kids, telling stories from the point of view of a mother or father going through an "extreme circumstance," says Lori Davison, VP of brand strategy and communications, adding that the approach brings a sense of urgency.
Being a mother of a hospitalized child, or a parent who works all day and then stays with their child at night are "profound human experiences," says Davison. "So our decision to go there was really part of our strategy to surface emotionally resonant stories that hopefully will motivate people to want to give."
Adding to this idea of "urgency," the "SickKids VS 5000" campaign was developed with the aim of drawing in 5,000 new monthly donors in only six weeks. The spot directed people to the foundation's donation page where they could sign-up and become monthly donors, while door-to-door canvassers also recruited people on iPads. Davison says the November campaign pulled in 6,500 new donors.
"That was really aggressive and ambitious for us, we've never seen that kind of acquisition before – but using the VS construct to give Toronto that challenge, people instantly understood that it was a goal and that they had to help us get there," says Torrance.
The foundation's goal is to raise $140 million each fiscal year (beginning April 1) and for the first time ever, it reached $100 million by December 31. Donations are now being driven by the new "All-In" campaign, yet another piece that rallies the public to help "fund the fight" and build a new hospital – a natural evolution of a campaign that has been encouraging team effort all along. "No one is seeing an end date [for the platform]," adds Torrance. "No one is seeing that this will get tired, because at its core, it's connected to a truth about SickKids."
SickKids VS: Behind the scenes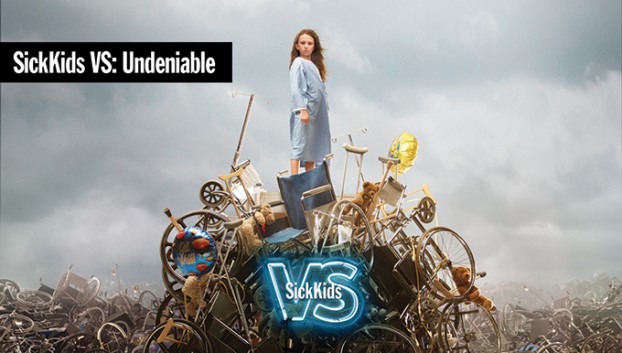 "Undeniable" took seven days to shoot. The biggest challenge was figuring out how to film inside a working hospital, as many of the kids were in the middle of treatment. One scene shows kids running barefoot in a field. For safety reasons, they wore shoes for the shoot, but the footwear was removed during postproduction. Some patients with more complex conditions couldn't be in large crowds, so they had to be filmed individually.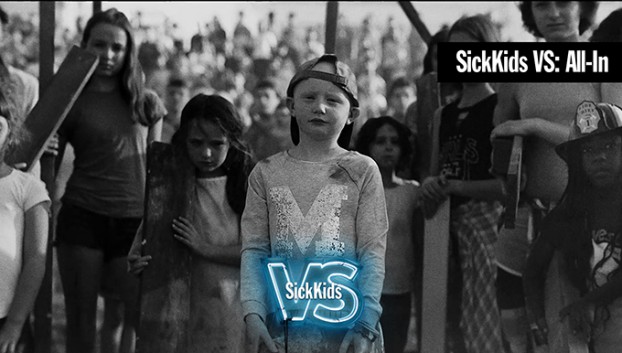 "All-In" was shot during a heat wave that struck Toronto. At times, there were 10 assistant directors on site to help manage the 250 patients and their families present for the shoot. Production folk would do a "sweep" of each location to ensure there weren't any dangerous objects. The best part was to see the bond between the kids. "If you see a child being helped by another child in the spot, that's really what was happening," says Davison.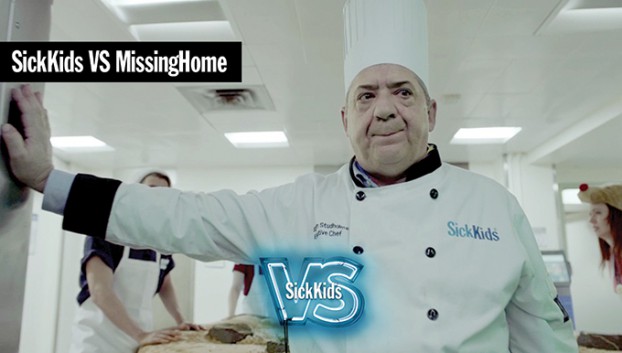 The crew filming the "Missing Home" scene on the hospital's helipad (where three giant holiday cookies were transported) had to go through hours of safety training. They did drills to practice clearing the rooftop in 10 minutes in case of an emergency landing – which actually happened. The chef in the spot is the actual resident cook at SickKids. And for all you bakers, sorry to disappoint, but those giant cookies were just props.