Tech in Action: Equalizing your playlists
Smirnoff and Spotify launch a tool to fix the gender balance in the music you listen to.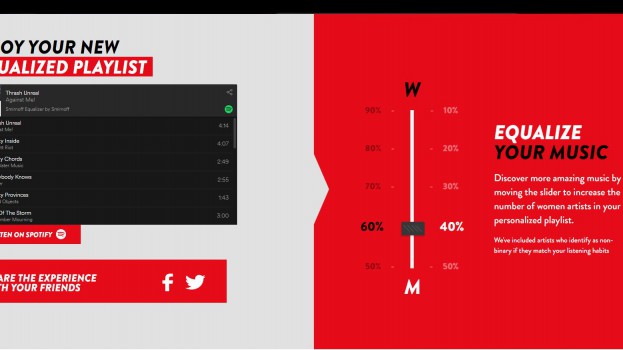 Spotify is using the week of International Women's Day to change the habits of its users and get more exposure for women artists on its music streaming platform.
It partnered with Smirnoff on a project called the "Smirnoff Equalizer." By linking your Spotify account, the site will analyze your listening history (similar to the way it does for its popular "year in review" feature) and give you a percentage of how much of the music you listen to is created by women.
From there, users have the option to let Spotify suggest ways to get more inclusive with your listening habits. A slider lets them set the balance between male and female artists, and the site will generate a playlist featuring women that fit best with your musical tastes.
Also in time for International Women's Day, Spotify has created "Amplify," an in-app destination to give more exposure to particular groups and issues through its trademark curated playlists. While the section is, appropriately, focusing on women for March – highlighting women in different genres and pulling together a list of female-hosted podcasts – the company plans to use Amplify to periodically highlight other under-represented groups (like LGBT and racialized artists) and issues (like self care and mental health).
International Women's Day can be a tricky day for brands. Many of them prepare well-meaning initiatives to commemorate the day, but those efforts can be thoroughly criticized by users on social media if they are seen as lackluster, or lacking in action that might actually improve things for women in society.