Time's Up tackles issues in advertising
The new org launches with more than 180 agency leaders pledging to fight harassment and discrimination in the workplace.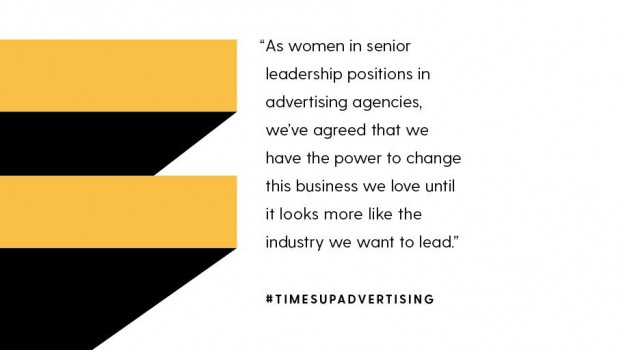 A new organization affiliated with the Time's Up movement has been created to specifically address sexual harassment and broader issues of discrimination in the advertising industry.
Time's Up Advertising was launched today, setting itself a mission "to drive new policies, practices, decisions and tangible actions that result in more balanced, diverse and accountable leadership; address workplace discrimination, harassment and abuse; and create equitable and safe cultures within our agencies."
A letter posted to the organization's website outlines its mission statement, specifically pointing to the fact that those who hold leadership positions in the industry are in a unique position to make change.
"As women in senior leadership positions in advertising, we've agreed that we have the power to change this business we love until it looks more like the industry we want to lead," the letter reads. "As leaders, it's on us to foster a workplace where people are challenged but still respected. Sexual harassment is not OK. Never. No exceptions. No amount of talent, missed cues, or being great in the room unchecks the No Sexual Harassment box."
The letter goes on to say "old power dynamics" are part of the problem, saying it is time to discuss the responsibility that comes with power. It also acknowledges a possible lack of diversity in the leaders who have signed the letter and "the long-term effect of power structures that encouraged some of us to rise but held others back," pledging to address those issues as well.
"We don't for a minute believe we found all the answers," the letter says. "We found some. You've searched and found them too. The answers are there; they just need to be picked up and realized. Answers need to be acted on."
More than 180 female c-suite staff and senior leaders from ad agencies and industry organizations have signed their names to the letter.
Signatories from Canadian agencies include Shelley Brown, chief strategy officer at FCB Toronto; Samia Chebeir, president of FCB Montreal; Andrea Cook, president of FCB/Six; Nancy Crimi-Lamanna, CCO of FCB Toronto; Elana Gorbatyuk, SVP of strategy at Sid Lee; Judy John, CEO of Leo Burnett Canada and CCO of Leo Burnett North America; Melanie Johnston, president of DDB Toronto; Patty Jones, managing director of DDB Vancouver; Helene Leggat, president of DDB Edmonton; Jill Nykoliation, CEO of Juniper Park\TBWA; and Helen Pak, president and CCO of Grey Canada.
Time's Up was launched in January to help address sexual harassment in the entertainment industry, with a name inspired by a letter written by female farm workers organization Alianza Nacional de Campesinas. Among the organization's initiatives are advocating for legislation to punish companies that tolerate persistent harassment and moving towards gender parity in studio and talent agencies. Time's Up also created a $13 million legal defence fund to help defray legal and public relations costs for those who have experienced sexual harassment or related retaliation in the workplace. That fund has since grown to more than $20 million.
Time's Up Advertising has outlined a number of its own actions it plans to take to create a road map to "real change" in the ad industry. Those actions include committing to "creating solutions that work, starting with examining the processes and policies that have failed us;" "identify and mentor people representing diversity across the board and who are ready to become agency leaders;" and the "adoption of progressive agency training and education that brings this discussion and its solutions out into the open in our agencies." The organization will be posting its progress towards these goals on its website so the industry can hold it accountable.
The organization will be holding community gatherings on May 14 in New York, Los Angeles, San Francisco and Chicago, and will set up an online forum to reach those beyond these cities. Time's Up Advertising's members have also made contributions to the Time's Up Legal Defence Fund, and encourages those who support the cause to do the same.
Last week, a coalition of organizations representing segments of Canada's creative industries – including the ICA, Ad Standards and ACTRA – signed a new Code of Conduct aimed to prevent and respond to harassment in work and work-related environments.