DAZN brings 'greatness' to the soccer season
A new campaign encourages fans in Canada to get up bright and early for one of the year's hottest games.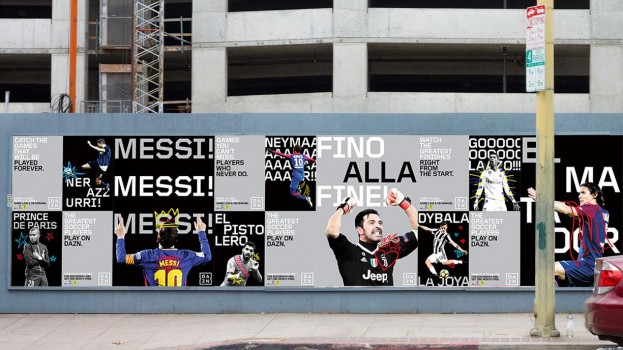 Sports streaming service DAZN has launched a new campaign targeting European soccer fans in Canada.
Designed to promote its slate of soccer programming, the "Rise to Greatness" campaign comes from the fact it is difficult to be a fan in Canada when the matches are happening overseas.
Developed with creative agency Sid Lee, the campaign speaks directly to those who want to be closer to "El Clasico," a matchup between Barcelona and Real Madrid and one of the sport's biggest games – which Canadian fans will have to catch at the early hours of 7:30 a.m.
"The games are on early in the morning and there's a lack of community around watching [them]," Zak Usher, DAZN head of marketing, tells strategy. "It was really important for us to bring soccer to the forefront."
But those early morning games are a huge factor in DAZN's decision to develop this fully integrated campaign, which focuses heavily on digital and social promotion, but also includes a "Quest for Greatness" contest, which will take one fan and a guest on a VIP trip to Barcelona on May 6 to experience the game in person.
"What we really noticed is the comradery and community…is really tough to get if you're a European soccer fan in Canada," Usher says. "So trying to facilitate that, whether it's by taking Canadians to Spain to see their heroes play or using creative marketing to try and [create] the community soccer fans have in Europe, is what we're trying to do."
In addition to digital, video, social, search and CRM, the campaign includes OOH running in Montreal, Toronto and Vancouver, which feature some of the biggest players on the platform – think Ronaldo, Messi and Neymar – surrounded by their nicknames and quotes that are core to soccer fans.
"We settled on a visual language and style that uses hands-on graphics to reflect the emotion and passion that fans have," Usher says.
DAZN has focused most of its marketing efforts since it launched last year around NFL football, which it held the exclusive streaming rights to in Canada. But now that the football season is done, it is turning its attention to soccer leagues like La Liga, Serie A and Ligue q. Usher says "Rise to Greatness" was developed to reflect the differences between soccer fans and football fans in terms of the relationships they have with their favourite players and teams.