Lyft launches first out-of-home campaign in Canada
The ride-sharing company tailors its inclusive brand message to Torontonians on the go.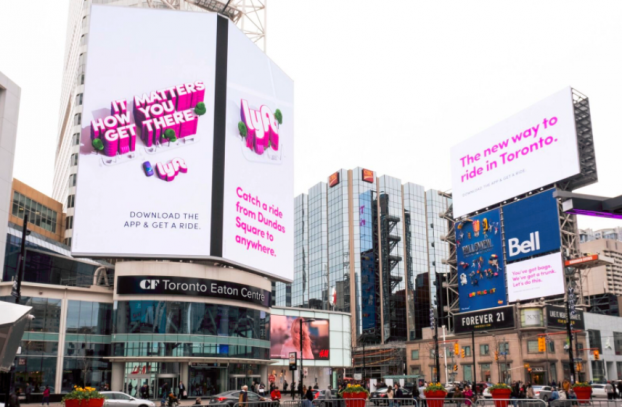 Ride-sharing service Lyft is attempting to connect its own professed values of inclusivity with Torontonians on the move this summer in its first Canadian out-of-home brand campaign.
Created by U.S. agency Wieden+Kennedy, the out-of-home ads are running in some of Toronto's highest-traffic areas including the Air Canada Centre, Yonge-Dundas Square, Billy Bishop Airport and Union Station, with a wrap around a TTC subway train bringing the message around the city.
Lyft came to Toronto late last year, the company's first market outside of the U.S. Tim Houghton, Toronto general manager at Lyft, says the brand's message in Canada is largely the same as it has been elsewhere: it is a company that values treating both drivers and passengers better to create an experience that sets it apart.
"Lyft's values align well with Torontonians' values," he says. "Lyft has always valued inclusivity and diversity, and we believe in treating people better."
Though Lyft has rarely drawn this comparison directly itself, a positioning based around positivity has been a major differentiator from Uber. Lyft's main competitor faced numerous hardships in 2017, receiving public criticism for issues including a sexist workplace culture, data breaches, sexual harassment allegations and incentives that encourage drivers to work exceedingly long shifts.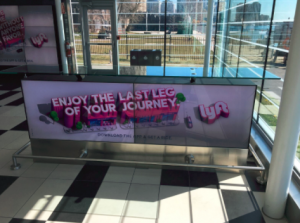 While the message and brand values are consistent with campaigns Lyft has run in other cities, the creative was developed to resonate with Torontonians, and specifically at the locations where they are running. Ads at Billy Bishop Airport, for example, encourage travelers to "enjoy the last leg" of their trip.

Houghton says that Union Station has emerged as Lyft's most popular destination in its first few months of operation, which is part of the reason it decided to target other major transit hubs in the city. He adds that many customers also use Lyft to make first- and last-kilometre connections with the TTC and GO Transit, and there's also an opportunity to reach commuters during TTC maintenance closures.

Houghton says the high-traffic summer season was the right time for the company to try and build its brand awareness, but it's not the first effort Lyft has made to connect with consumers in Canada. The company launched "Round Up & Donate" initiatives that allow riders to round up the cost of their fare to make donations to SickKids or the Children's Hospital of Eastern Ontario in Ottawa (the company's second Canadian market, where it began service in March), partnering with Toronto Blue Jays player Marcus Stroman and Ottawa Senators player Matt Duchene to do so.

"We're passionate about being an active corporate citizen in Toronto and Ottawa," Houghton says, adding that's why Lyft has partnered with local organizations that have deep roots in their communities.