Fleurish Cannabis partners with Apt. 3304
The recreational brand targeted at women worked with the boutique agency to develop its visual identity.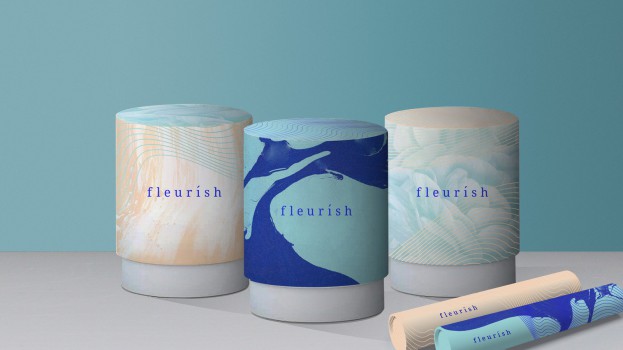 Fleurish Cannabis, a licensed producer founded by and targeted to women, has announced a creative and branding partnership with boutique agency Apt. 3304.

Apt. 3304 was founded by Cecelia Torchia and Caitlin Purssell, who were a copywriter and business development manager, respectively, at Community Agency before starting Apt. 3304 earlier this year. A press release announcing the partnership said it is part of Fleurish's "commitment to collaborate with talented female entrepreneurs" in the cannabis space.

The packaging (seen above) was created as a concept to reflect the Fleurish brand. While it ultimately will not be allowed on store shelves due to Health Canada regulations mandating "plain packaging" on recreational cannabis products, the company says it remains a representation of how the Fleurish brand will be visualized. The design is intended to be "rooted in both nature and femininity," using floral treatment, line work and a distinctive cobalt blue as an anchor colour.

"When it came to packaging design, we wanted to evoke our premium products that come from nature in a way that wasn't forced or expected, creating a line that could easily integrate itself within a woman's life," Torchia said.

Fleurish was founded by Renée Ellison, who worked at Health Canada as the communications lead for the team working on the Marihuana for Medical Purposes Regulations that commercialized the production and distribution of cannabis for medical purposes. It was while working on the MMPR that Ellison recognized a gap in the cannabis market when it came to companies that catered to the tastes of women.

A report from DIG Insights earlier this year estimates the women's cannabis market is worth roughly $2 billion a year in Canada, with 2.2 million women using it on a regular basis. Fleurish's own consumer research suggests that women have unique preferences in the strains and forms of cannabis they'd like to consume.

There is also a wealth of incoming marketing experience set to join the company's leadership team, including CEO Michael Smith (founder of Consumer Impact Marketing and in-store activation agency Launch), CMO Mary Beth Williamson (former CMO of vitamin company Jamieson Laboratories), director of marketing operations Jessica Canas (former director of marketing operations at Mosaic North America) and director of marketing Steve Sadoff (former director of marketing at Jamieson Laboratories).

Fleurish is waiting to receive approval from Health Canada to cultivate cannabis – the company has previously stated it expects to receive its license this spring – but has a goal to begin selling products by the end of the year.