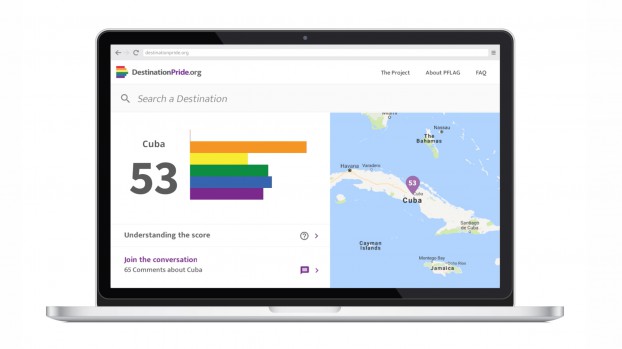 Canada brought home a number of Design and Mobile Lions this year, with FCB/Six, BBDO Toronto and Cossette all taking home prizes on Tuesday.
FCB/Six won Gold and Bronze in Design and Gold and Silver in Mobile, a category where BBDO Toronto also represented Canada with a Silver win for its work with the Canadian Paralympic Committee. Cossette was awarded the country's other win for the day, with a Bronze Lion in Design for "Humanity & Inclusion."
FCB/Six's four wins were for "Destination Pride," a digital platform created for PFLAG Canada that highlights the struggles of LGBT people around the world. It allows LGBT travellers to gauge the safety of a given country based on its marriage and sexuality activity laws, rights and social sentiment. Each destination was scored by PFLAG on six factors, the results of which are brought to life in a dynamic graphic consisting of the pride colours.
Mobile jury president Jay Morgan, innovations director at The Monkeys, told strategy the work won Gold in that category because of its cultural relevance and ability to help keep the conversation going on a topic that has come more into focus in recent years.
"From a design perspective, it was perfect; from the perspective of what it actually said and told you, it was such an elegant solution," he said. "I could see this being used in so many different ways."
BBDO Toronto also managed to take a Silver in Mobile for "The Paralympic Network," a campaign for the Canadian Paralympic Committee ahead of the 2018 Pyeongchang Olympics. The work quantified the exact odds athletes overcome to win at the Paralympics, showing them in rugged terrain of Canada's north.
However, the work fell short of the Grand Prix, nabbed by Brazilian organization Reclame Aqui for its "Corruption Detector," created by Grey Brazil. With Brazilians heading into a general election later this year, Corruption Detector uses facial recognition to expose corrupt politicians, drawing on a database of charges processed by hundreds of courts. After just one week, it became the most downloaded app in Brazil.
The winning work "put the power back in the hands of the people," added Morgan.
Although Morgan said the jury felt that the PFLAG campaign "needed to be awarded," it was done for a non-profit and therefore not eligible for a Grand Prix. Either way, he said the work is "sitting where it should," adding that in terms of its scale and impact, it's still "early days."
Speaking at a press briefing, Morgan said the gamut of Mobile work represented the "culmination of an interesting year," in which data, privacy and the recently enacted GDPR regulations have taken centre stage.
Not only have mobile devices become a vehicle for an "incredible sort of personal expression," but they have also created new problems for marketers as well, he said. "We saw work that was trying to address that using the medium."
In Design, Cossette's Bronze win saw the formerly-named Handicap International become Humanity & Inclusion in a bid to be more inclusive and respectful towards people with disabilities. The name change maintained the organization's acronym, HI, while a new hand logo, representing both a friendly greeting and the act of intervening in moments of prejudice, ensured its cultural and linguistic relevance across the world.
The Grand Prix in Design went to the U.K.'s AMVBBDO for "Trash Isles," which helped Plastic Oceans LADbible turn a pile of plastic trash the size of France in the Pacific into a country recognized by the United Nations, forcing other countries to clean it up. The effort saw 200,000 people register to be citizens and is estimated to have reached half a billion people.
An earlier version of this story omitted BBDO Toronto's Silver Lion in Mobile, Cossette's Bronze Lion in Design and two additional Lion wins for FCB/Six. The story has been updated to reflect the wins.