Top Drawer Creative becomes The Turn Lab
After 25 years in business, the Toronto-based independent agency is turning the page and adopting a new business model.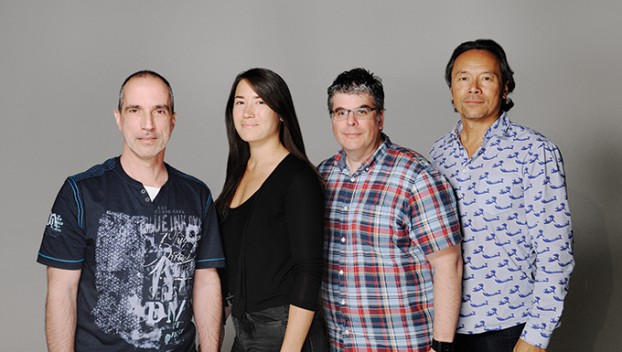 The Turn Lab's co-founders, from left to right: Frank Aloise, Malina Kaija, Steven Aronovich and Howard Chang.

This story originally appeared in the Summer 2018 issue of strategy.

Toronto independent agency Top Drawer Creative celebrated its 25th anniversary this year. And to mark the occasion, it has become The Turn Lab and adopted an entirely new business model.

"We're blowing the place up without burning it down," says Howard Chang, previously CEO of Top Drawer and co-founder of The Turn Lab.

Top Drawer made a name for itself by being a registered B Corp, having its office be carbon neutral and pursuing clients in purpose-driven spaces: green energy companies, social causes or hospital foundations trying to fundraise. The Turn Lab will still operate sustainably, but it will work with any client looking to transform its business, as well as those that align with the agency's values.

The big priorities at The Turn Lab are going to be digital, tech and consulting, which might seem familiar to anyone who works at an agency that's evolving for today's business. But the way it's deploying its services is unique: Turn Lab, going forward, will sell and license the IP and products it creates.

"One of the big challenges, be it at a network shop or an indie, is that everybody is still selling time for money," Chang says. "We're moving away from that."

Over the last 15 years, Top Drawer developed plenty of customized platforms for clients who weren't happy with "stock" options available to them. But the agency could see that, in many cases, elements of what it was building – be it a CRM platform, an e-commerce solution, a media reporting tool – was in high demand among other clients.

"We've seen a lot of different business problems, and a lot of them fall within the same bucket," says Frank Aloise, previously VP of interactive at Top Drawer. "So when we create a solution, can we really say it's just for one client? We can find a lot of common functionality in what we build, especially when it comes to those things where you're amazed it doesn't exist already."

Selling access to the agency's IP won't be limited to tech and digital. On the consulting side, it also operates a consumer insights panel, one that it plans to expand across North America.

Chang says they have had to downsize and let some staff go, but that it was a "tough change" that needed to be done to bring in the right talent, particularly within data and analytics.

Advertising remains an important tool in its offering, but Malina Kaija, previously business builder at Top Drawer, says staff will no longer have traditional agency job titles. Instead, they will be organized by discipline, so they can be easily pulled into projects as their skill sets are required.

Working on different parts of a client's business is becoming a priority for many agencies looking to survive disruption. But as The Turn Lab's transformation shows, it's not just big network agencies that could – or should – commit to a business evolution.

"We've been pitching with this new model, and we're in front of Fortune 100 companies," Chang says. "We're entering big agency territory but coming at it from a different way."

Correction: A version of this story appearing in print mistakenly referred to The Turn Lab's co-founders by their previous titles at Top Drawer. It also referred to The Turn Lab's creation as a rebranding, as opposed to the launching of a new agency.